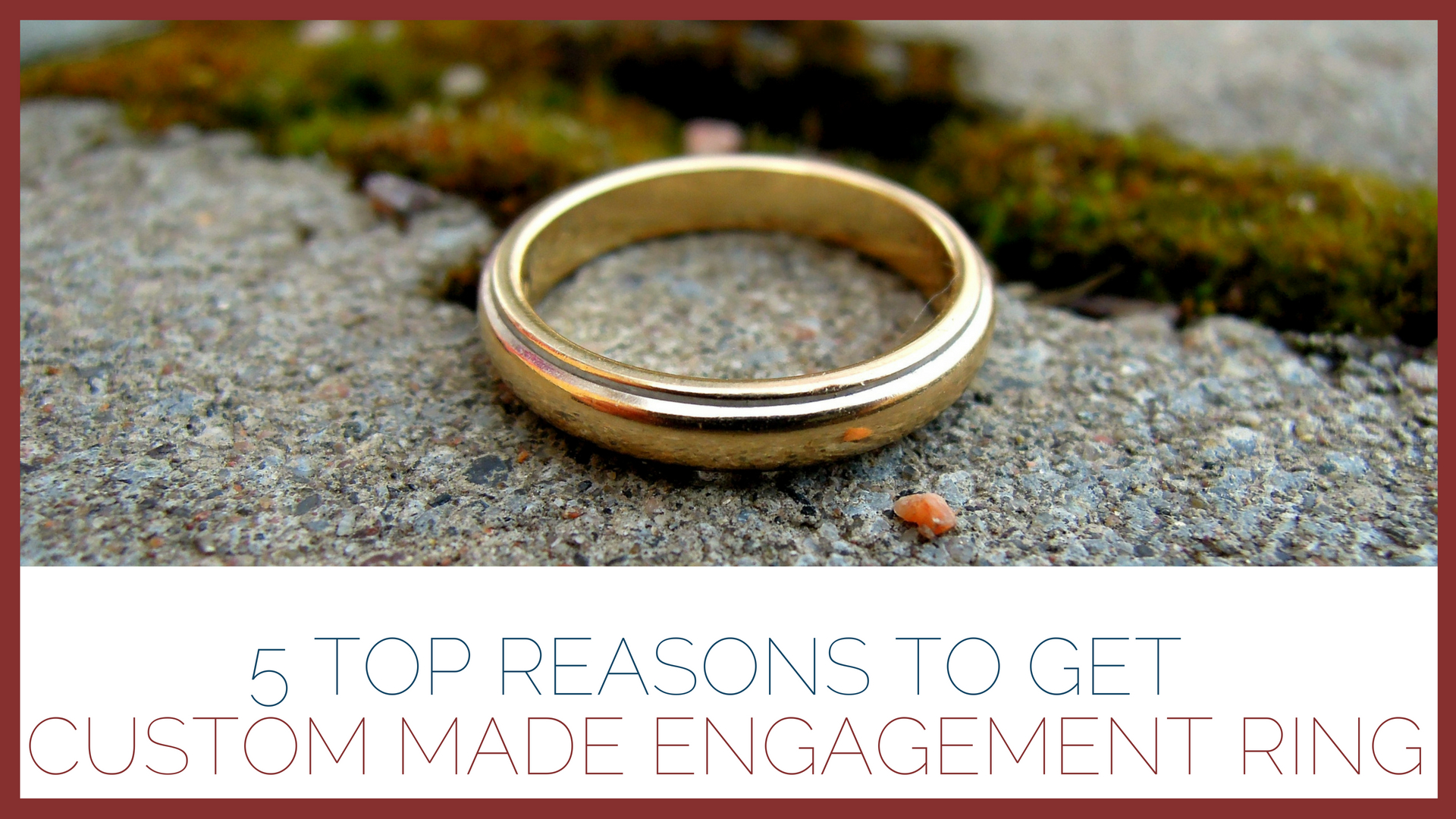 The search for an engagement ring is one fraught with risks and frustrations. With the wide range of beautiful rings at every jewelry store, searching for that dream ring is not an easy task. What's more, you have to research the types of metals, precious stones, 4C's of diamonds, third-party certifications, shapes and cuts, settings and so much more. Simply put, the search can get overwhelming, and in the process, you might end up buying the wrong ring. Well, you can make life easier for yourself by going for a custom engagement ring. It is a more exciting ring purchase option where you have control over every aspect of the engagement ring you want.
If you are in the market for a beautiful engagement ring, you should consider a custom-made one. Most buyers struggle to find the perfect engagement ring for their partners but it doesn't have to be this way. In this article, you will learn about custom-design engagement rings and the advantages of going for one. Among the reasons for buying a custom-made engagement ring include:
Convenience
With so many jewelry collections available in your city and online, searching for the perfect engagement rings can take months. It is a tedious process especially when you want to surprise your partner. You have to hop from one store to the next in search of that dream piece.
Design your own engagement ring saves you the agony and stress of searching. You can collaborate with an established jeweler online and provide the ring design idea for the work to start. It saves you time and energy, and you can focus on other things in your life.
Opportunity to Create a Dream Ring
One of the main advantages of custom designing your engagement ring is the creative freedom you enjoy. There are no restrictions on the shape, size, metal, color or precious stones you can use. The idea is to design and build a ring that reflects your partner's style and personality while also expressing some meaning.
You can derive inspiration from the most glamorous rings and scale down on the expenses by reducing the size of the center stone or the size of the ring. When customizing an engagement ring, you have a chance to surprise your spouse with her dream ring.
High-Quality Ring
It is true most jewelry collections today boasts of high-quality pieces. They borrow inspiration from the latest design trends and they come with a high price tag. However, you can now compare the quality of such stock jewelry to a custom-design piece. The meticulous attention to details and commitment to excellence that goes into a custom engagement ring is unrivaled. The result is the ultimate engagement ring boasting magnificent design, durable construction, meticulous finishing and symbolism in every component. If you use a skilled jewelry designer, every idea you have in mind will come through in the final piece. It is for this reason that most families boast of treasured custom pieces in their heirlooms. They treasure such jewelry because of the high-quality design and the skill that goes into every part. It is quality you simply can't get with store-bought jewelry.
Symbolism in the Custom Ring
When Price Harry decided to propose to her wife to be, he went ahead and designed a beautiful engagement ring from scratch. The magnificent yellow ring had a center diamond from Botswana, a place the couple treasures for personal reasons.
Prince Harry also used two diamonds from his mother's (Princess Diana) collection as a way of expressing her immense impact on his life. The yellow color is the bride's favorite. Most people decide to customize engagement rings to add such sentimental touches and buy a piece their partners will treasure for life.
Work Within a Budget
Buying an engagement ring is a costly affair, and as such, you need to set a budget. However, most couples find it hard to stick to the budget when they start shopping. The wide collection of beautiful rings will easily carry you away. However, if you decide to customize the cheap engagement rings, you have control over the design and cost.
You will collaborate with the jeweler to ensure the ring doesn't overshoot the budget. For instance, you can scale down on the clarity or color of a diamond to reduce the cost of the overall ring.
Shows More Commitment
That you have taken it upon yourself to study your partner and research her preferences to build her dream ring will not go unnoticed. Your partner will appreciate the effort, time and resources that have gone into customizing the beautiful ring. Custom jewelry design always ends up in the family's heirloom and they become family treasures passed from generation to generation.
There are other reasons to go for a custom-made engagement ring. It cuts the cost of engagement ring shopping, allows you to buy an outstanding and unique ring, reduce the stress involved in buying jewelry and you can also involve your fiancée. When customizing an engagement ring, you get to learn a lot from your jeweler, and this knowledge comes in handy when you have to buy another piece in future. If you want to surprise your partner with a dazzling ring, take time to learn more about their favorite colors, jewelry designs, personality among other quirks.
The information comes in handy when customizing an engagement ring.