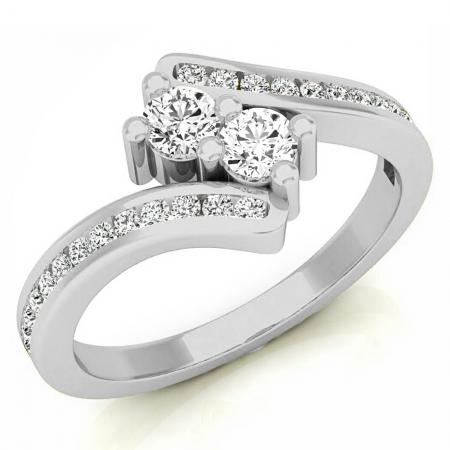 An engagement ring is a token of love, togetherness, and compassion between two souls. The ring bonds two people with the vow of spending their life together. Everybody wants to settle for anything less than perfection when it comes to choosing the right engagement ring. The right kind of metal, gemstone or diamond, combined with the appropriate setting – everything needs to be perfect for an engagement ring. Most people get confused when it comes to choosing the right metal for your engagement ring or anniversary ring. No matter how expensive or beautiful the gemstone is, the wrong metal can radically ruin the beauty of a ring.
Below are some tips that can help you opt for the right metal for your engagement ring.
FIX THE BUDGET
An engagement ring is a lifetime investment. However, you have to make sure that you do not overspend in the process of choosing the right engagement ring. Apart from the size of the gemstone, the kind of metal you choose can have an impact on the cost of the ring. While some metals are lustrous and durable, the cost of these metals is expensive. So when you are fixing a budget, you should keep in mind the qualities of different metals and choose according to your budget.
CONSIDER HER PREFERENCE
When it comes to choosing the right metal for an engagement ring, be aware of what your sweetheart prefers. Determining her style and choosing the right metal that complements her style, is something that is very important. Platinum or white gold may be her choice if she is drawn towards cooler hues and silver toned jewelry. Rose or yellow gold will be her preference if she is attracted to warmer tones. Sometimes mixing white and yellow gold is a smart choice, especially when she has to match the ring with an existing piece of her jewelry wardrobe. Diamond engagement rings with white gold or platinum settings, accentuate the gemstone and add to its sparkling effect.
PLATINUM – EXPENSIVE AND HIGH DURABLE METAL
Considered the most expensive of all jewelry metals, platinum is highly durable metal. It is resistant to damage and does not wear away soon. So if you fiancée is leading an active lifestyle then this metal can be your perfect choice. The white color of the metal is something that will never fade. Also, it looks great with gems such as diamonds that accentuate the gemstone to a great extent. So if you are looking for the right metal for diamond engagement rings, then platinum is really a good choice. For people having sensitive skin, platinum is a great choice as it is naturally hypoallergenic.
GOLD – VERSATILE METAL FOR YOUR ENGAGEMENT RING
One of the most common choices for jewelry, gold is considered a versatile metal for any kind of jewelry. The purity of gold is measured in karats. Pure gold is said to have 24 karats. 24 karat gold is too soft to be used in jewelry, so it is mixed with other metals like nickel, copper, and zinc to increase the durability of the metal. When gold is mixed with other metals, it comes in the form of 18k, 14k or 10k gold.
Yellow gold
Yellow gold is considered the most common choice for engagement and wedding rings. Considered to be a traditional metal, the classy warmer hues of yellow gold add great elegance to a piece of jewelry. The classy fashionable yet traditional look of a yellow gold ring can beat an exquisitely crafted platinum or white gold ring any day.
White gold
The silvery white character of white gold is due to the combination of yellow gold with a copper, zinc, and nickel. Complementing well with diamond jewelry, coating white gold with rhodium gives it a reflective shiny appearance. An array of options are available when it comes to rings made of white gold. Considered to be a contemporary form of yellow gold, white gold is preferred by many.
Rose gold
The warm romantic hue of rose gold provides a uniquely romantic look to any jewelry ring. Jewelers get you get rose gold By combining yellow gold with copper. Considered to be more durable than yellow or white gold, rose gold does not need a rhodium coating. The redness of the color is determined by the percentage of copper present in the metal alloy used to make the ring.
Apart from the metals mentioned above, Silver, Palladium, Tungsten, Titanium are some of the metals that can work as good alternate metals for your ring. The setting can be an important factor too. The perfect setting can add great beauty to any ring. The perfect metal combined with the right gemstone can always make your engagement ring look perfect.
The right kind of engagement ring makes your special day even more special. Considering the above aspects, you have to look for the right jewelry store that can fulfill all your requirements. There are several options, both online and offline. So opt for the ones that meet your requirements and get yourself an elegant ring.