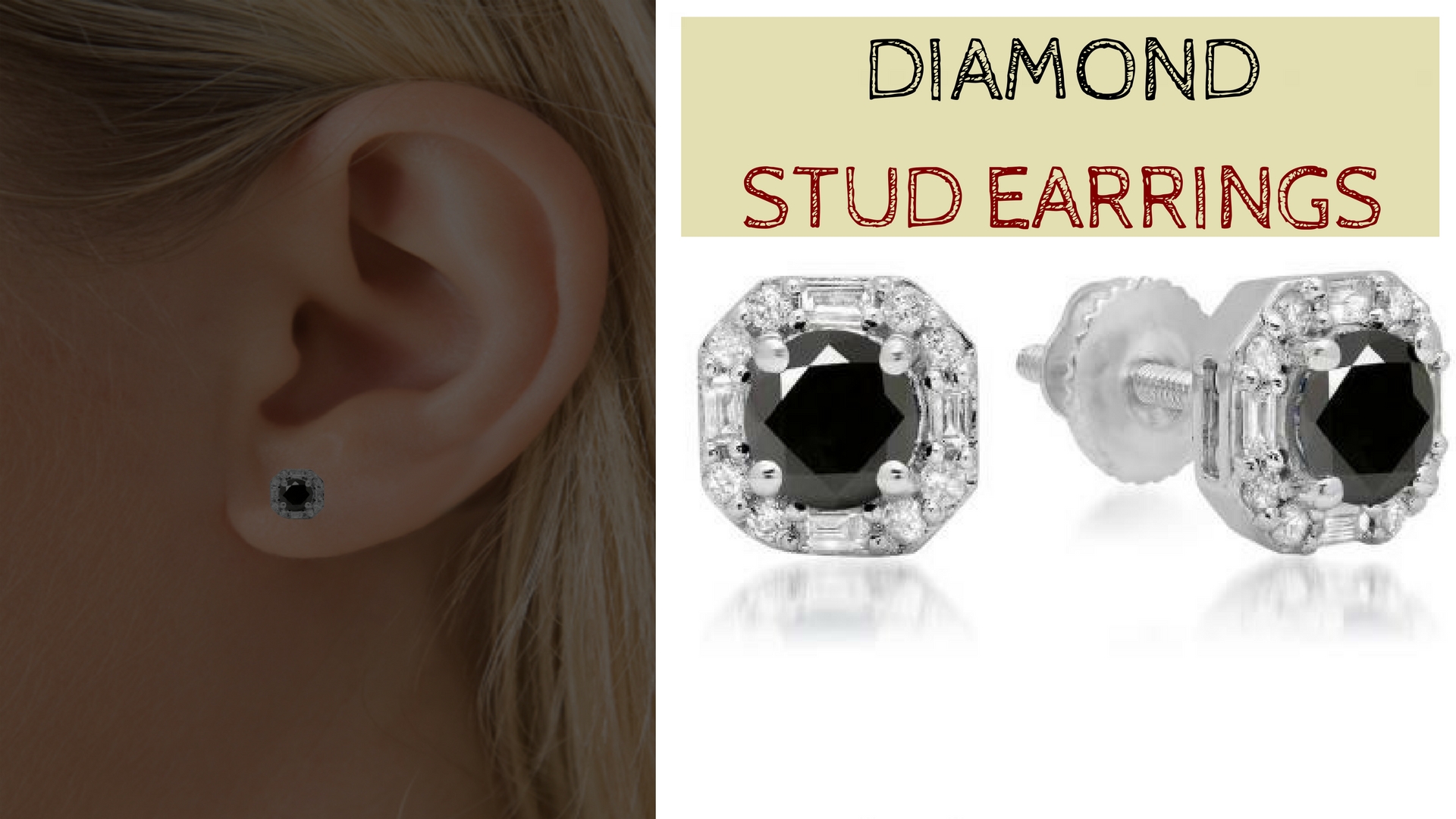 There is nothing more stylish than accentuating your look with diamonds. Considered precious gemstones, diamonds are said to be a woman's best friend. Diamonds are always a great addition to a woman's jewelry collection. Be it an earring studded with a cluster of diamonds or an earring with a single large diamond, diamond stud earrings are always beautiful to look at. They are incredibly versatile and loved by women of all age groups. It can be crafted in an array of designs to suit different preferences. Every piece of diamond jewelry has a story behind it.
It may also have an emotion attached to it. For some, it may signify the love of their parents or siblings, whereas for others it may signify eternal love for their spouses. Since times immemorial, there has been a deep bond between women and diamonds. Ideal for birthday presents, wedding gifts or engagement surprises, any woman would love to own diamonds.
This kind of gift is never out of style and always retains its value or charm. There is nothing more classy and sophisticated than an elegant pair of stud earrings.
Choosing The Right Diamond Earrings
It is very important to choose the right kind of earrings that complement your personality. The clarity and cut of the diamonds may vary. There are lots of styles available. You may find it a little difficult to get the perfect pair of earrings that actually matches your look. The very first rule is to look for studs that match the contour of your face. If your face is broad, it is advisable to go for princess cut diamonds.
However, if your face is on the thinner side, then round cut diamond studs could be the best option for you. The metal used for setting the studs should match your skin tone. Warm skin tone looks best when complemented with gold, while platinum or white gold looks good on people with a fairer skin tone.
The setting is one of the prime considerations. A terrible setting can ruin a beautiful pair of earrings. The secret to a perfect setting for your earrings is always balance. Try to avoid the crown style setting where the weight of the diamond looks too profound or those that make the diamond droop. Some of the setting styles that would look good as a part of diamond studs are the three-prong martini style or the four-prong basket style.
In this kind of settings, the diamond perfectly fits in your ear, making it look beautiful and elegant at the same time.
Why Diamond Studs Are Popular?
Versatile use
The most important reason behind the popularity of diamond studs is that they are appropriate jewelry for regular wear. You can wear them to work or to a dinner party after work. The simplicity of this jewelry makes it ideal for almost any occasion. You can even wear them to special events like marriages, birthday parties or on family outings.
Appropriate for every kind of attire
A pair of earrings looks good in any kind of attire. Be it a festive gown, formal wear or party wear, it enhances the beauty of your look. Teaming up diamond studs with any dress from your wardrobe is fun. With the right kind of setting, it can go well with any kind of attire.
A simple durable piece of art
It is considered to be very durable jewelry items. The simple yet elegant design makes them the ideal jewelry item for daily use. You can wear them while you are working out at the gym, running in a park or reading a book. There is no hassle of the stud dangling from your ear or getting looped with something.
An array of designs
The vast array of designs makes them one of the most sought jewelry items. Be it the classy style (with three or four prong setting) or designer studs (flower studs or diamond clusters), It is always special. A traditional or a contemporary pair of earrings are a big yes, on any day, to any woman.
Diamonds make wonderful accessories irrespective of age. A pair of studs that go well with your watch or your bracelet can add real beauty to your personality. Teenagers or older women, diamonds are loved by all, regardless of the generation, they are from. Diamond studs are also the best gift that you can gift your loved one. Women cannot possibly say no to a pair of lovely earrings.
Choosing the right jeweler from whom to get your jewelry is important. An extensive online research is very important before you go to a reliable jewelry shop. You must be sure of the kind of design you want. Dazzling Rock has the finest collection of exquisite diamond jewelry that you would love to own. Designed by skilled professionals, the designs crafted are elegant and of high quality.