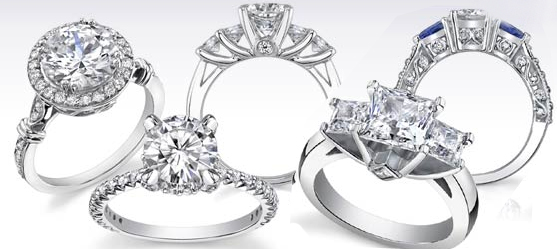 Diamond rings are available at online and offline jewelry stores and boast of different metals. Here is a quick synopsis of some good metals to choose from.
While choosing the best metal for unique diamond rings, such as wedding bands and engagement rings that are set with precious gemstones, you need to take utmost care to select nothing but the best. The top choices of metals for rings are platinum and gold. These metals are considered to be the most popular and precious of the jewelry metals available on the racks.
Platinum is a coveted choice as the shiny yet elegant metal helps to add a futuristic and modern appeal to the latest designs of rings. Highly durable and long-lasting, the use of platinum in rings is considered as a good option when the wearer enjoys a fast-paced and active lifestyle. The density of platinum provides an appropriate secure setting for all kinds of gemstones, including diamonds, thus making it the right metal for engaged couples and newlyweds alike.
Then there is rose gold and yellow gold that serves as the perfect metal for unique diamond rings that you would like to add to your collection. Offering a rich and traditional appeal, gold variants are the hot favorite for jewelry makers and their wearers alike. As gold has an eternal charm, high level of malleability, and universal acceptance in all kinds of jewelry, it makes for a full range of possibilities for rings.
If you are planning to get engaged soon and are on the lookout for cheap diamond engagement rings, then there are some important factors that you need to consider. Choosing the right metal would be a complex decision as there are more choices available than merely yellow gold and white platinum or silver. With that said, it is essential to ask yourself some pertinent questions such as:
1. How are white gold and platinum different from each other?
2. What is rose gold?
3. Would you rather go for newer, alternative metals for the wedding ring?
4. What about titanium or tungsten carbide as the choice of metal for your rings?
5. How would any other metals complement your existing collections in platinum or gold?
It is a good idea to take small steps to get to the metal of your dreams. Start with the kind of metal that suits your taste and preference. Work on a budget that you wish to allocate for the purchase. Look around for subtle hints to understand your partner's choice, and so forth. Soon, you will be able to shortlist rings in different ring settings to align with your individual styles.
So what's her style?
First and foremost, you need to focus on your fiancée's style. Once you are sure of the kind of metal and color that would suit her style, you will find it easier to figure out the kind of unique rings that she would like to wear in the future. Here are some helpful tips to guide you on your purchase:
1. In case if she is drawn to silver-toned jewelry or those with cooler hues, then white gold or platinum would be the right way to go.
2. Rose gold or yellow gold would be a good choice if she is prone to gravitate towards warmer tones.
3. Mixing metals to make unique rings is also a smart option. You may think of blending yellow gold and rose gold to find an engagement ring and wedding band that complement her existing jewelry collection.
4. You may also decide upon a warmer metal, such as rose gold, and have a solitaire diamond set in platinum or white gold to accentuate it fitfully.
Platinum: Metal for setting diamond rings
Platinum is a natural white metal that has a cool luster. It showcases the sparkle and brilliance of diamonds beautifully. This popular choice of metal for wedding bands and engagement rings is 5 times purer and rarer in comparison to gold, and is used for crafting designer jewelry. Platinum is known to be naturally hypoallergenic as well; therefore, it is a wonderful choice for wearers with sensitive skin. When used to make rings, the elegant sheen of platinum will not change color or fade over time, thus making the process of re-plating completely unnecessary. Also, as it is strong and durable, platinum is an excellent choice for setting diamonds in all kinds of rings – irrespective of whether they are eternity rings, three stone diamond rings, solitaire engagement rings, wedding bands, etc.
Gold: The versatile choice for diamond rings
Just like platinum, gold is another versatile metal that has become an important choice for making rings. As pure gold is quite soft for the processes of jewelry making, it has to be blended with other metal to form alloys that enhance its strength. Copper, silver, zinc, nickel and other substances are used in the alloy to lend durability and strength to gold. The percentage and type of metals combined in the alloys with gold determine the color and shade that would be imparted to the diamond ring. For instance, 14K gold may look slightly pale yellow while 22K gold flaunts a rich, concentrated gold color.
Diamond rings usually give of the following colors when used for jewelry making:
Yellow gold: Fashionable yet classic, yellow gold attains a warm patina from the green color of silver and the red of copper. Although yellow gold carried less favor than white gold for some time, it has regained its popularity in current times.

White gold: White gold attains its silvery white character courtesy from the combination of copper, zinc or nickel with yellow gold. diamond rings made with white gold are plated with rhodium, that is about four times costlier than platinum. Rhodium plating resists tarnishing and scratches and offers a reflective appearance to white gold.

Rose gold: Romantic and unique, rose gold provides a pink, warm color that is caused by blending copper in an alloy with yellow gold.

Green gold: Nature inspired and unusual, green gold has a pale, soft coloration that is brought about by combining copper, zinc, and silver with yellow gold. Designers of rings may use green gold with white and rose gold to create an interesting look.
Diamond solitaire engagement rings are an iconic sign of commitment. Dazzling in their simplicity and striking beauty, solitaire diamonds leave no doubt that their wearers are planning a happy future with the love of her life.
Silver: The softer metal for unique diamond rings
Silver, being a soft metal, is quite susceptible to damages like scratching. It also oxidizes at a faster rate than other metals, thus making the rings attain a blackish look upon exposure to weather elements. This oxidation is removable using silver jewelry cleaners. These are reasons why diamond rings set in silver are worn only on special occasions rather than on a daily basis. Silver is not a metal commonly used for the crafting of wedding bands and engagement rings.
Tungsten Carbide: Heavy, durable and hard
Tungsten carbide is a compound made of carbon and tungsten that creates the base for rings that are likely to withstand any degree of rough use. Rings made of tungsten carbide are scratch resistant and durable. Tungsten carbide is often preferred over other metals because of its shiny, bright luster. Rings made of tungsten carbide retain a permanent polish and rarely need maintenance as compared to their counterparts made of other metals.
Titanium: Best for men's wedding rings
Titanium is an admirable, durable option for rings; especially the hardier men's wedding rings. The good thing about the strongest naturally available metal on the planet is that it is very light despite its other physical properties. Also used for the making of women's engagement rings, titanium is 100% hypo-allergenic. It is also dent, scratch, and bend resistant. It is available in many colors and is thus an attractive choice for cocktail and designer rings.
Palladium: The most luxurious metal for diamond rings
Palladium is a durable, naturally white, lightweight metal that is quite resilient to discoloration. It is an important member of the uncommon platinum metal group; in fact, it is one of rarest types of precious metals ever found by man. Very strong and durable, this metal usually flaunts a purity level of at least 95 percent. It is not used for the making of decorative and fashion jewelry because of its longevity and high price; on the contrary, it is more commonly used for the making of wedding bands and engagement rings.
The best setting
Now that you have a fair idea of how different metals are used for crafting perfect looking diamond rings, you may want to put it all together. Pick your style, choose the metal of your choice, and complete the entire look with gorgeous gemstones or brilliant diamonds. At the end of it all, you will be creating an impressive engagement ring that's as beautiful and unique as the lady of your dreams.