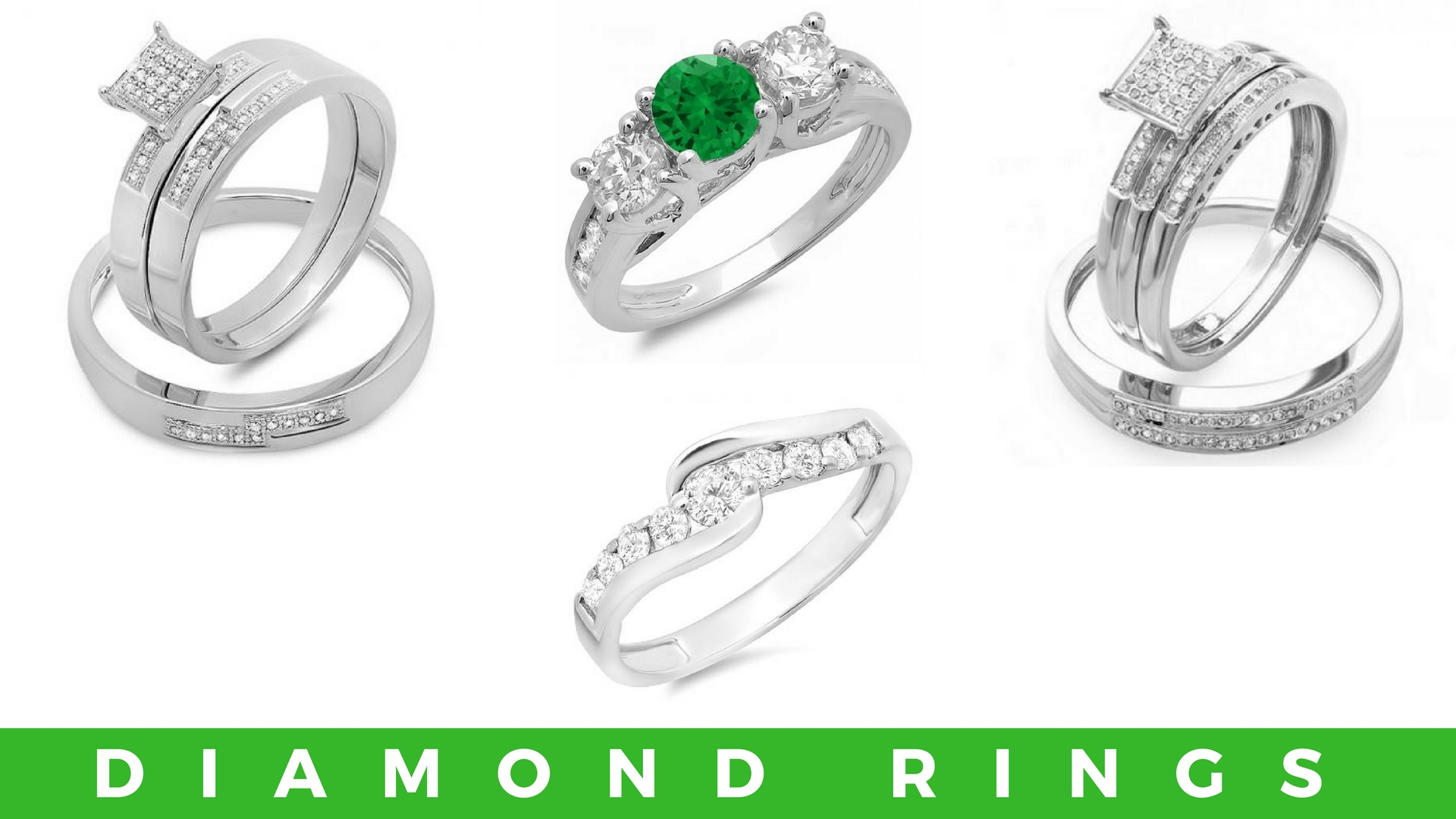 Diamond rings, be it with any setting, cut or design, are loved by women across the world. Here's why these diamond rings are becoming popular with buyers of all age groups
Be it a bride, a to-be-engaged corporate woman, or an elderly diva, they all love unique diamond rings for more reasons than one. For instance, emerald cut diamond rings are the way to go for ladies known to appreciate classic diamonds that are both appealing and sophisticated. Then, there are specially cut rings with emerald settings that appear bigger than most other diamond rings having the same weight; this is because this unique cut gives the diamond a larger surface area to refract the light rays falling on it. In other words, by investing in emerald cut diamonds buyers can spend lesser than what they would have done but still bring home a larger-looking stone. So, are you ready to explore the dazzling world of diamond rings that are innovatively designed and exclusive in their own way?
Emerald Cut Diamond Rings
Women love to wear the slenderizing effect cast by emerald cut diamonds. If you are also one such diamond lover then do think about slipping on an emerald cut diamond ring on your ring finger. In no time at all, you will be gazing fixedly at your beautiful looking longer, elegant fingers. This classic cut has been around since but is still ranking high on the list of coveted diamond cuts for engagement and wedding rings. For sure, this style will never go out of fashion with ladies of all age groups and from different walks of life.
Diamond Eternity Bands Are Forever
If you already have a solitaire engagement ring or a single-stoned emerald cut wedding ring, you may want to add some additional bling by investing in other diamond rings. How about buying a diamond eternity band to add to your collection of diamond rings? This style may feature diamonds that are wrapped all the way in a circular style around your finger. As they sparkle from all angles you can be assured of making heads turn with their glitter wherever you go.
An eternity band would also serve as a nice men's wedding band. He may choose to wear one such ring with a beveled titanium band to complement his engagement ring or wedding band. The clean lines cast by eternity rings are usually in perfect alignment with the sophisticated style of smartly cut diamond matches. However, the simplistic nature of these diamond rings allows your rings to convey all the dazzle; even while they showcase a more masculine style for your special someone.
Diamond Rings With Side Diamonds
Have you checked out emerald cut wedding ring sets that have smaller sized diamonds studded on the sides? Such wedding rings can also be purchased as engagement rings and feature minor detailing or side stones to look perfect with scallop diamond rings. If you opt for one such diamond ring for your wedding, you can be assured that it would have to be perfectly sized to complement, and not really overshadow, your engagement ring. If you are wondering what to buy for him then consider the creation of a perfect wedding set by investing in a diamond beveled band with the same inset. In most cases, the exquisitely polished finish of such a band would match the sleek and elegant look of the emerald cut diamond. On the other hand, you may like to go for a single round diamond as your bridal wedding band – provided it features the same cut as that of your soulmate.
Diamond Rings That Have Dash Of Color
Uniquely cut diamond rings have always been known for their classic style. The good thing about these beautiful rings is that they can be customized to make them look all the more exquisite for trend-setting couples belonging to these modern times. One of the best ways of going about the act is by choosing matching wedding bands that are appropriately set with a flash of color. For example, you may want to opt for a set of pave diamond sapphire bands to serve as the perfect choice for both of you. Alternatively, you may wish to pair one such band with a sandblasted perfectly-domed inlay band for men to complement your special someone's style. The striking colors flaunted by each of these bands are beautiful and vibrant. However, as they are subtly hued, these rings can be worn along with all kinds of without creating eyesore or clash.
Tips For Buying Unique Diamond Rings
With so many options of diamond rings to choose from, it can be difficult to narrow down your final selection. So, whether you wish to buy the best wedding rings to complement the emerald-cut diamond engagement rings, or something else, you need to keep certain important factors in consideration. This is especially true if you are planning to shop for new and larger-sized wedding ring sets. Here are some essential and helpful tips that can aid your purchase in the best of ways.
1. In case you have exchanged a simple looking engagement ring or band with your fiancé, it would make good sense to research upon and buy a flashier wedding band; the vice versa is also true.
2. If you would like to wear both diamond rings at the same time then it would help to have them in the same metal. In other words, if your engagement ring is made with gold then a gold wedding band or ring would impart a more cohesive look to your fingers. You will not find it appealing to match a gold band with a platinum ring. If it is feasible for you, do match his rings with the same metal as yours to create a more elegant-looking set.
3. Be men or women, they should try the exquisite diamond bands with their engagement rings to ensure that they sit well with the shape and stone of the rings in the reckoning.
4. Never be scared of letting your personality shine through the rings of your choice. Your charisma is different, as is your personality. Do not let it get overshadowed by the whims and fanciful tastes of others. How about adding a light flash of color to your fingers through differently colored stones or diamonds? There are several colored gemstones to choose from. These stones promise to set well with diamonds of different cuts and can be selected as per your individual taste and preference.
5. In case your spouse and you have very distinctive tastes then you may wish to settle on diamond rings and bands that complement each other to the hilt. Engraving a sweet message or symbol is one way of tying them together. You may also engrave the day of your engagement, wedding or any other special occasion to connect your hearts and rings forever.
Diamond rings, for emerald cut diamond rings, have managed to gain immense popularity because of the celebrity following they boast of. For instance, emerald cut diamond rings with interesting designs, and styles have been linked to Beyoncé, Angelina Jolie, Amal Clooney and many others who love to sport the finely cut rock. Though emerald cut diamonds might not showcase the same sparkle and glitz that other diamond cuts do, they have their own elegance and flaunt an old-world look that can seldom be matched by other types of diamond rings.
What to buy?
As far a good price point is concerned, all experts would recommend that you buy the stones that have the highest color and clarity grading possible. This is also the case with emerald cut diamonds as they have large facets as their main USP. Emerald cut diamonds may have been the underdogs in the diamond world so far., but these days they are being chosen over many other cuts because of their everlasting appeal and grandeur. If you would rather go for another cut, then you may want to take a look at the of brilliant cuts like round or princess. However, emerald cuts are generally less costly than most sought after shapes. Take your pick. Additionally, you need to consider the clarity, color, and certificate of authenticity of the diamonds shortlisted by you.
Are you ready to invest in diamond rings and bands of your choice?