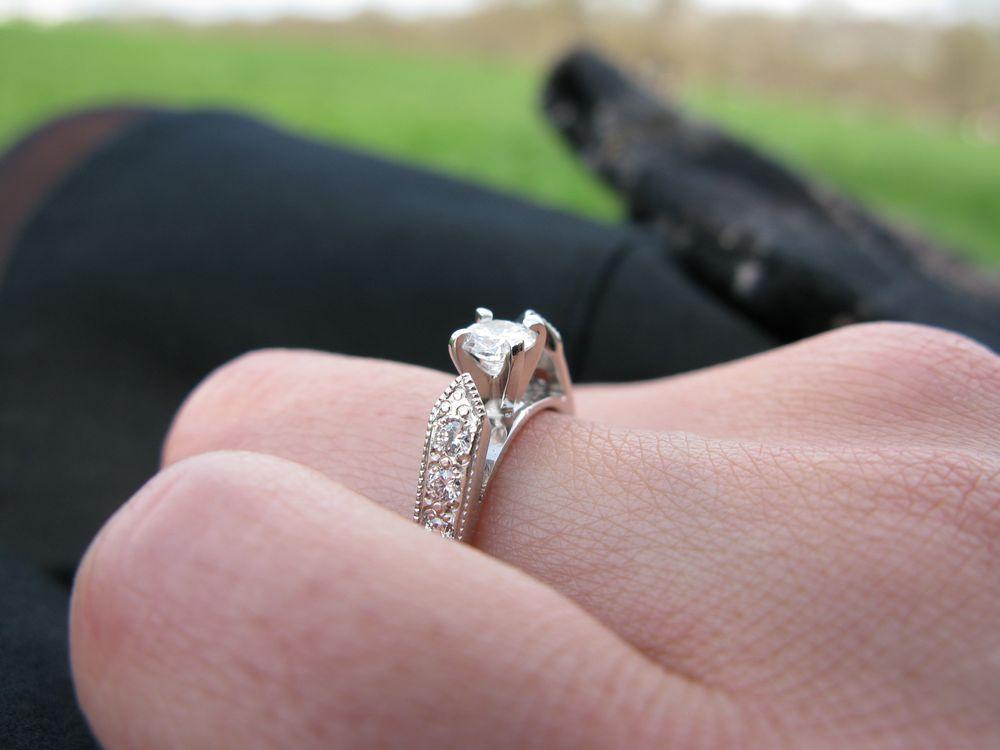 Looking to pop the question to that special someone?
Choosing an engagement ring can be something of an exciting yet stressful experience.
So many questions come to mind.
How big should the diamond be?
Will it suit her general dressing style?
What if she doesn't like it?
All of these questions can be answered by following these simple guidelines to pick the perfect engagement ring for her.
Observation Is Key
Once you have made up your mind to take the plunge it is now time to start window shopping for rings and short-listing a few. But before you start to pick the perfect engagement ring for her, you need to have a bit of an idea about her general dressing style. You probably know her best, but when it comes to jewelry women can be fickle.
Watch what she wears in jewelry over a period of a week or so. Are the pieces she wears chunky? Are they delicate? Does she wear a lot of gemstone studded trinkets? Does she prefer plain metal pieces? Keep a keen eye out for everything. Not just rings. Look at necklaces, bracelets, anklets, earrings, eyebrow piercings, nose rings, everything!
You will notice a pattern soon enough and when you do go to an engagement ring store eventually, you will be able to picture certain rings on her fingers a lot easier.
Be Sneaky
You can't outright ask her. That would be silly. No. What you must do is look for opportunities to comment on other people's jewelry, especially engagement rings if you can. For instance, if you are watching a movie where boy proposes to girl, make a comment about how big or small the ring is and see how she reacts. It should give you enough of a clue about what kind of ring she might like. Similarly TV commercials, TV shows, billboard ads, etc. can be used as sneaky opportunities to elicit information.
However, you want to avoid this too much because she will catch on soon enough and we don't want that!
Know Your Choices
And finally, before you zero in on a winner, you need to know your options. So here is a quick list of styles that you are likely to encounter in the hunt for the perfect engagement ring.
The Classic Solitaire
We all know the classic solitaire. A simple ring with a huge dazzling rock! The size of the diamond will differ depending on the ring but the basic design will have only one fairly large diamond as the center of attention. We won't deny that this is quite a popular style for most women. So should you blindly choose a solitaire, we would say the odds would ever be in your favor!
Halo Ring
Halo rings are solitaire rings taken up a notch. Meaning, these rings have one massive stone in the center, much like the solitaire style but they also have tinier stones surrounding the large one creating a—you guessed it—halo. Seeing that these rings have far more stones than a solitaire, the price goes up quite a bit. But they are definitely worth it if they will compel her to say yes!
Princess Cut Diamond Engagement Ring
What better way to make her feel like a princess than with a princess cut diamond engagement ring? Yes, they are absolutely as fancy as they sound! These rings typically have gems that are cut in a sort of "square" shape, popularly known as the princess cut. If you think about it, these can also be categorized as solitaires but they add a touch of glamour to the whole affair. You may also find princess cut rings with bands that are studded with smaller stones for a dash of added elegance.
Cluster Rings
Cluster rings stray away from the traditional style of engagement rings. Some people prefer that their rings be different or unique so to speak. These rings usually have a "cluster" or stones in the center either creating a flower or star shape. They may also have a cluster of metal molded into a design and then studded with diamonds or other gems. So if your girl is one of a kind, maybe this is the type of ring you should consider.
Now that you are well acquainted with the styles, all that is left is to put your observations to good use and choose one that you think will suit her best.
If you are looking for stunning rings that won't cost an arm and a leg, Dazzling Rock is a certified online Jewellers you absolutely must check out. They offer a lovely collection of engagement rings that will have you spoilt for choice. They allow you to customize rings and choose your own stones and metals. And the best part is, you don't even have to leave home to go ring shopping. Just do it on your couch! So go on, take a peek at their website and see if you can't find something that she would absolutely love!
Hope this guide will help you to pick the perfect engagement ring for your parner.
Good luck to you!