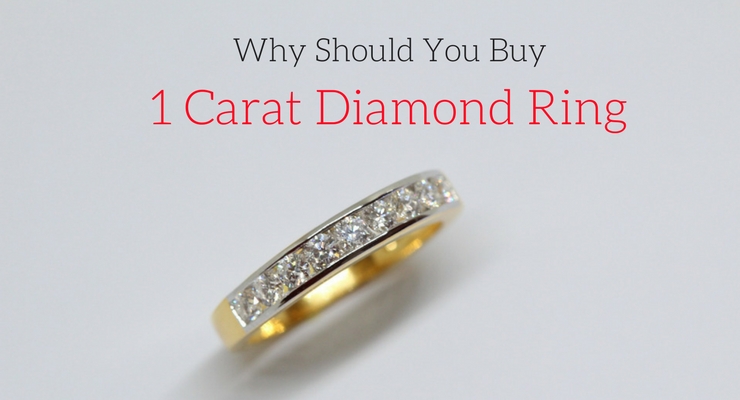 We all know that diamond rings have always been very popular amongst couples and all people looking for a timeless gift for her or him. But have you ever thought why most people out there choose to have a 1-carat diamond stone? Diamond stone also comes in other sizes and shapes.
For example, you can buy a 0.50 carat or 0.98-carat diamond ring which will cost you considerably less than a 1 carat diamond ring.
WHY PEOPLE CONSIDER TO BUY 1 CARAT RING
We don't enjoy watching a movie if we miss the first few minutes of the show. We don't manage with a half cookie or a partially full cup of tea. And the same human psychology trait stands true when it comes to shopping precious diamond jewelry such as engagement rings and earrings.
People tend to feel more attracted and satisfied with a 1 carat rings compared to any less carat diamond ring. You may also consider buying 2, 3 or even 12-carat ring if you have those millions of dollars in your account. But you need not feel envy of Kim K's large diamond ring. It looks both stunning and elegant. And buying one will not make you break your bank.
COST FOR 1 CARAT DIAMOND
There are several factors that determine the price of a diamond ring and diamond's carat weight is the most important factor of all. For example, a 0.50-carat diamond will cost you less than 1-carat diamond. And the price of the stone will increase with higher carat weight.
SHAPES FOR 1 CARAT DIAMOND & HOW IT IMPACT ON PRICE
From perfect round and oval to heart shape, you will find a 1ct diamond ring that best matches your idea of a dream engagement ring or wedding ring. 1 ct diamonds are a popular choice in diamond solitaire rings; the central stone looks stunning and classic. While shopping your diamond ring, you will also come across a style of rings that features multiple stones which together weight 1 carat, 3 carats or even 12 carats.
These diamond rings with multiple stones come at more affordable prices than single stone rings of same carat weight. Besides, round and princes' cut shapes are extremely popular in the diamond jewelry market and thus the price may be a bit higher for rings with these stones. In addition to carat weight and shape, other factors such as cut, color, and clarity of the stone also play important role in the cost of diamond rings.
HOW TO CHOOSE METAL FOR 1 CARAT DIAMOND
Depending on your budget, you can choose metal for your 1 ct diamond ring. Metal options include 14k white gold, 18k white gold, 10k white gold, 14k rose gold, 10k rose gold, 18k rose gold, 14k yellow gold, 10k yellow gold, 18k yellow gold, sterling silver, and platinum. Regardless of the diamond stone setting, shape and metal you choose, make sure you always buy from 100% certified diamond jewelry.
SHOP ONLINE  AND SAVE MONEY
Instead of visiting those huge showrooms of diamond jewelry, it is a great idea to shop certified diamond jewelry online from a reliable store. From a few hundred to tens of thousands of dollars, you will find a diamond ring for every budget. You will also see a great variety of shapes, styles, and color while shopping your diamond ring online.
1 ct princess-cut diamond rings are quite popular as an engagement ring as well as an anniversary gift. Traditional 1 carat diamond solitaire ring look like a timeless piece of jewelry and add to your elegance. When you shop online, there is something special about every taste and budget. A diamond ring can add sparkle and elegance to every special occasion.
CHOOSE CUSTOM DESIGN FOR YOUR RING
Some diamond jewelers also allow their customers to get a custom-designed unique diamond ring that best fits their style and needs. Shop for 1 cart diamonds online and get spoiled by the plenty of choices in stone settings, shapes, colors, and metals. Thinking of a beautiful Christmas gift for her? 1 ct diamond ring is the answer. Go shopping now!