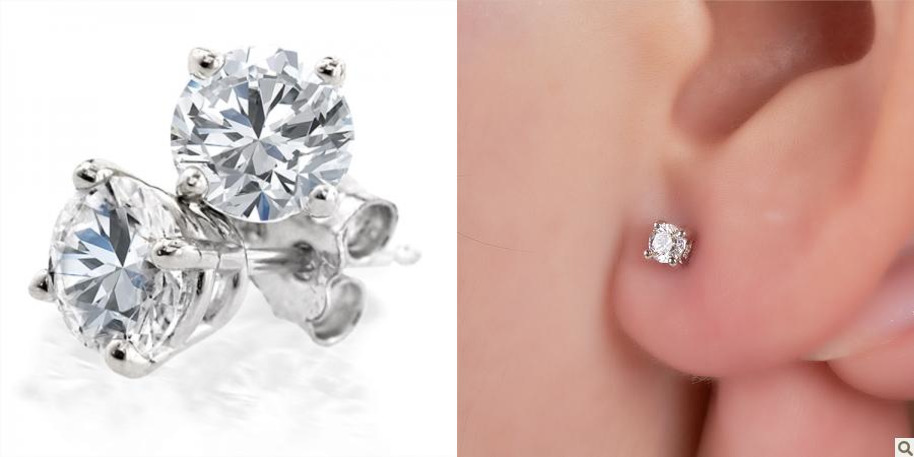 Although stud earrings are versatile and small, they are appropriate for formal, semi-formal, and casual settings. Women, men, and even kids can comfortably wear these earrings alone or with other pieces of jewelry.
You can choose to buy these earrings as a gift for engagement, birthdays, anniversaries, weddings or because you just need them.
However, getting these adornments is trickier especially if it is your first time. You have to know precisely what you are looking for and how you can negotiate an excellent deal. This is the key to purchasing quality diamond stud earrings.
Jеwеlrу shopping can be tricky іf уоu don't knоw exactly whаt tо lооk fоr. You can make your shopping hassle-free if you follow these tips to pick out the perfect pair of diamond stud earrings.
DECIDE HOW MUCH YOU WANT TO SPEND
Diamond earrings prices cost at least $100 to $20,000 per pair or more. You have to think about the amount you want to spend, and then sort the earrings by price, so you don't go over your budget.
Certified diamonds that have a high-polish finish and weight between 2 to 2.5 carats are usually kept on the price scale's higher end. Those weighing 0.10 to 0.25 carats with average clarity are normally ideal for any shopper who wants to buy cheap diamond earrings.
EXPLORE DIFFERENT CUTTING STYLE
Diamonds get their signature sparkle from the cut. A cut affects the refraction level of the light released by the stone.
Some online listings rank the men and women gemstones cut grade using a scale that was created by the American Gemological Institute. Poor is the lowest grade for a cut while excellent stands for the best grade.
There are different cuts associated with stud earrings. They include the round cut that has rounded edges; the princess cut that has a square shape, and the brilliant cut that features angled facets below and above the diamond crown.
Be sure to avoid deep-set rounded stones in case you want a larger portion of your diamond's surface to remain visible.
DO YOUR HOMEWORK FOR CHOOSING CARAT SIZE
Carat sizes determine the diamond's weight.
It doesn't mean that a large carat size is the only factor that will affect the diamonds shine. Some small diamonds with specific cuts can sometimes sparkle more than the larger ones.
Stud diamond earrings usually range from 0.10 to 2.5 carats, but you can occasionally find other weights. Those shopping for young children or with sensitive earlobes should opt for a smaller carat size that won't feel heavy when worn.
ASSESS THE CLARITY AND COLOR
Diamonds come in different hues, including yellow, pink, black and blue. Impurities and defects contribute to the discoloration.
So, the transparent diamonds are mostly the purest. Flaws do reduce the earrings price and are beneficial to those who prefer that unique, edgy look that comes with colored diamonds.
Clarity refers to the letter grades that allow a buyer to know the gemstone's condition. "IF" describes diamonds that are flawless internally while "FL" refers to flawless diamonds with zero defects.
Professional jewelry evaluators grade the diamonds. The tools they use are designed to catch those flaws a naked eye can't see. In case you don't mind having studs that look perfect to the eye but have hidden flaws, consider buying budget-friendly earrings with a clarity rating of 11 or 12.
CONSIDER OTHER ACCESSORIES
Do you plan to wear those studs alone or with other diamond jewelry pieces like bracelets, necklaces or diamond rings? Some people like keeping it simple while others prefer wearing the complementary pieces.
Jewelry sets are suitable for shoppers who don't want to mix and match the accessories they already have. This set contains multiple diamonds adorned pieces that have the same metal bases.
DECIDE ON A SETTING
Stud earrings for men and women feature bases made using metals like sterling silver, gold, and platinum. The bases come in different setting styles including bezel settings, crown settings, and prong settings.
Bezel settings typically form a rim around the edges or the stone. This the most secure setting.
Prong settings have three to eight prongs holding each earring closer to the ear. Crown settings are designed in a crown shape, and they have a unique, lavish look.
Opt for stud earrings that have friction backs in case you want secure backs that help in holding your earrings in place.
Hope these tips will be useful to you, and you don't have to make bad choices anymore. Just follow our recommendations based on the experience we have to buy diamond stud earrings you have always wanted.