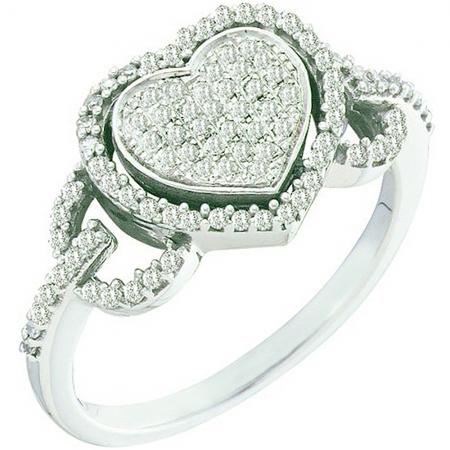 Whether you want to manifest a future engagement, show your commitment to your loved one, or have got any other thing that you want to make a promise for, buying a promise ring for girlfriend is indeed a most beautiful way to do it. Some couples also decide to exchange promise rings as a way to express the first move towards a wedding in the future.
Choosing the right promise ring that best signifies the meaning and emotions is extremely important. What's more, she will be wearing this ring every day and would feel proud to show it to her family and friends. So, selecting a right promise ring is very important.
No matter if giving a promise ring is another step towards your future marriage or if it's just your commitment, there are a few important things about choosing the promise ring. Here are some great tips you need to consider to choose the right promise ring for your girlfriend.
DECIDE THE METAL FIRST
Whether you have decided to shop rings from your local market or from an online jewelry store, you will find many different metals used to design promise rings including yellow gold, rose gold, white gold, platinum, and sterling silver to name a few. You need not break your bank to get her a classy-looking and trendy promise ring. Depending on your budget and her style preference, you can choose a metal first.
CHOOSE A RING SETTING
After finalizing the metal option, the next most important thing to determine is setting the style of the promise ring. Traditionally, promise rings have to feature a heart symbol. But in the modern world today, it can have any trending design. Solitaire rings make an eternal jewelry trend. They look elegant yet chic. Eternity bands are also in vogue amongst young couples these days. Or you can consider buying a three-stone diamond ring that signifies your devotion to her in the past, present, and future. A ring setting is just as important as choosing the metal and stone, so do not try to skip this step.
CHOOSE A FINGER
Promise rings are flexible. You can wear a Promise ring on any finger, unlike an engagement ring. Sometimes people often choose to wear them on a chain around their neck. It's entirely the wearer's choice on which hand or finger she wants to wear her promise ring. There are no hard and fast rules for it. The key to this is that once you decide on which finger you want to wear it after that it will be easy to get to know the ring size. A promise ring also makes a perfect replacement for your engagement ring as well while you are traveling. Otherwise, it will look wonderful if you wish to stack it with your engagement ring. It's totally up to you!
SELECT A RING THAT MATCHES HER TASTE OF FASHION
You may now be very well aware of her likes and dislikes when it comes to fashion. If not, take some days observing what kind of jewelry pieces she prefers to wear, and the metals she likes the most and tries to decode her style sense. If you are still having no clue about her jewelry taste, you can tell her straight about your decision of getting a promise ring for her and go shopping together. However, giving her a surprise sounds like a more cool idea.
MAKE SURE THE PROMISE RING DOESN'T LOOK LIKE AN ENGAGEMENT RING
This is quite very important. If your promise ring looks like an engagement ring, your girlfriend may get confused and think you are proposing to her officially. Clearing the misunderstanding to her may hurt her feelings which you certainly don't wish to do. So, it makes complete sense to buy her a promise ring that nowhere looks like an engagement ring. To avoid this confusion,  you must talk to the jeweler about the options so that you do not mix up the two styles and he can further help you to choose the right one for you. We are assuring you that the promise rings are very easy to buy, do not worry!
CHOOSE YOUR RING STONES WISELY
When it comes to rings, diamonds are the no.1 choice. Honor your pledge of love with a diamond promise ring. You will find a huge selection of diamond-studded promised rings both online and offline. However, if the budget is limited, worry not. There are many other stone options that look equally elegant and yet cost you a fraction of the diamond promise ring.
You can consider buying a Cubic Zirconia or a gemstone. They are available in different settings and look great. Besides, these stones are available in a wide pallet of colors. Also, a gemstone ring will never be misunderstood as an engagement ring. You can easily find a gemstone ring that fits your budget.
Giving her a birthstone promise ring is also an amazing idea. With the help of the internet, you will be able to find the birthstone of your girlfriend and get it embedded in a promise ring your girlfriend. She will truly be fascinated by your deep thought for getting her a meaningful promise ring.
GIFT HER AN ENGRAVED RING
Like wedding rings and engagement rings, you can also consider getting your promise ring engraved with a personal message or phrase. A meaningful message can speak volumes about your commitment to the relationship.
So, are you ready to express your love and commitment to your special someone by buying a promise ring? Then you are at the right place. At Dazzling Rock you can browse our collection of cheap promise rings available in many different metals, stones, and styles. 
Also do not forget to check out our amazing collection of cheap engagement rings on our website. 
Happy commitment!