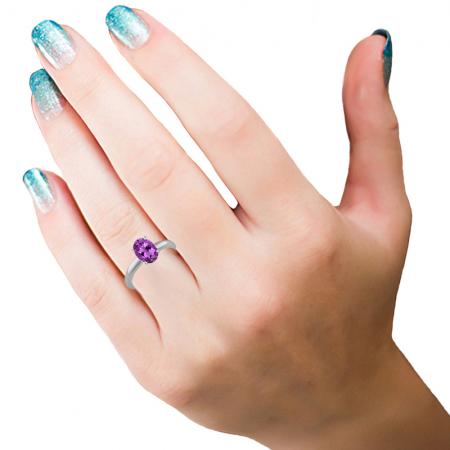 Let your proposal be different and unique! Pop the question to your loved one and see her eyes gleam when you slip the diamond engagement ring on her finger.
We have all heard about the exchange of rings at a wedding, but have you ever wondered as to when and where the tradition of exchanging rings on the engagement day started? Well, as recent as 1938, when the Great Depression was going on, the sales of these fancy stones was down and under, that is when De Beers, the reputed jewellery company, decided to hire an advertising agency to their sales figures shooting and get back on top. They looped in celebrities and advertised the size of the diamond that they presented to their loved ones – the larger and finer the diamond engagement ring, the greater the expression of love. This worked for the company and today almost 80% of the women folk receive a diamond engagement ring when they get engaged. Thus, exchanging of rings on your engagement is a very recent phenomenon.
Unwavering Symbol of Eternal Love
Traditionally, when a man popped the "Will you marry me?" question and the love of his life answered "Yes", he slipped a ring on the third finger of her left hand to make a statement to the world that she is no longer available for others to fall for. The same goes for your special someone if you buy her the most exquisite ring from among a wide selection of the best diamond engagement rings. Since she is going to be wearing the engagement ring right from the day of your proposal to the time of the wedding, you would definitely want a ring that she would love to flaunt around to her near and dear ones…..and what better than a beautiful diamond engagement ring that speaks volumes of your love for her!
Your love story is unique, and each diamond is also rare and unique. Diamonds are 'Forever', they are the symbol of everlasting love. Now, that is exactly what you had in mind when you proposed to the love of your life, isn't it? Show your profound love that will last forever with a diamond engagement ring that will increase the beauty of her finger or trinket box forever!
Celebrities love to flaunt their engagement ring on the red carpet, making the paparazzi go crazy. You would love the look of the Australian super model Miranda Kerr's engagement ring, which is a traditional round-cut diamond with tapered baguettes on a platinum setting. But there are some celebrities that do not go the diamond way, for instance, the Duchess of Cambridge Kate Middleton's engagement ring has a gorgeous blue sapphire stone, while the singer and actress Carrie Underwood flaunts a canary yellow diamond engagement ring. Once you take a look at these amazing engagement rings, you will love their designs to the hilt. So, if your budget allows, go for something similar. You would love to see the smile that appears on her face once she sees what you have slipped on to her fingers.
Choosing the Right Engagement Ring
Looking for that perfect engagement ring for your special one? Well, as cumbersome as the process may be for a first time buyer, it is definitely not impossible to find the perfect ring to present on the engagement day. You are free to go against the traditional way and look for something that falls well within your budget. Mixed metal rings are gaining popularity because the combination of gold and silver allows you to match them up with any other jewellery or watch of your choice. If budget is not a problem, and you are in the mood to pamper your loved one, then go in for a gleaming diamond engagement ring that can be purchased from an online or offline portal.
Here are some interesting tips to guide your purchase of elegant looking diamond engagement rings.
1. Yes, a solitaire does look impressive, but is it something that she will be able to wear daily? While choosing the size of the diamond, do consider the kind of work that your partner does across the day. What is her life style? Will she be comfortable wearing the same across the day? Think hard before you take the plunge and invest in a diamond ring.
2. Diamonds are expensive! Since this is a huge investment, it is advisable that you have some knowledge about this precious gem before investing in the same. Familiarize yourself with the cut, clarity, colour and carat as developed by the Gemological Institute of America (GIA). You may like to know her a little more to understand her style and preferences, so as to choose the shape and cut of the diamond accordingly.
3. With so many types of diamond engagement rings and more to choose from, you definitely need a lot of time to do your research to find that perfect diamond engagement ring for your loved one. Therefore, start planning well in time so that there is no rush and you have enough time to cater to your budget too. Look for a reputed local jeweler or a genuine online jewellery store, so that you know what you are buying is what you are paying for. Since this is one of your biggest purchases, a certificate of authenticity is very important. Make sure that your jeweler gives you a GIA certificate that states all the details of the diamond that you are purchasing.
Play With Colors
Dazzle your loved one with those one of a kind rings! Designers are working round the clock to create designs that will make you sparkle in the crowd. As she is different and unique, go for a non-traditional diamond engagement ring. Agreed that a simple white solitaire is the ultimate and the most popular choice, but modern to-be-brides are ready to be different. These days, the more popular engagement rings are vintage inspired designs. If you are ready to mix metals rather than go in for the traditional gold or platinum, you may like to choose centre stones that are big and colorful.
Choose your favorite colour for the centre stone of your diamond engagement ring. Fancy and colorful diamonds like black, yellow or pink grab the attention of others around you. There are plenty of other amazing options of less expensive gemstones too. For example, you would love the brilliant sparkle of blue sapphire, red rubies and green emeralds that give a very vintage look to engagement rings. You can even play a little with the shape of the centre stone. The tapered cuts of diamonds like the pear shape and the marquise shape are becoming popular with modern brides; they feel that this shape elongates their fingers giving it a slimmer look. Go for them!
So, wait no longer and dazzle your way into her heart with a diamond engagement ring!