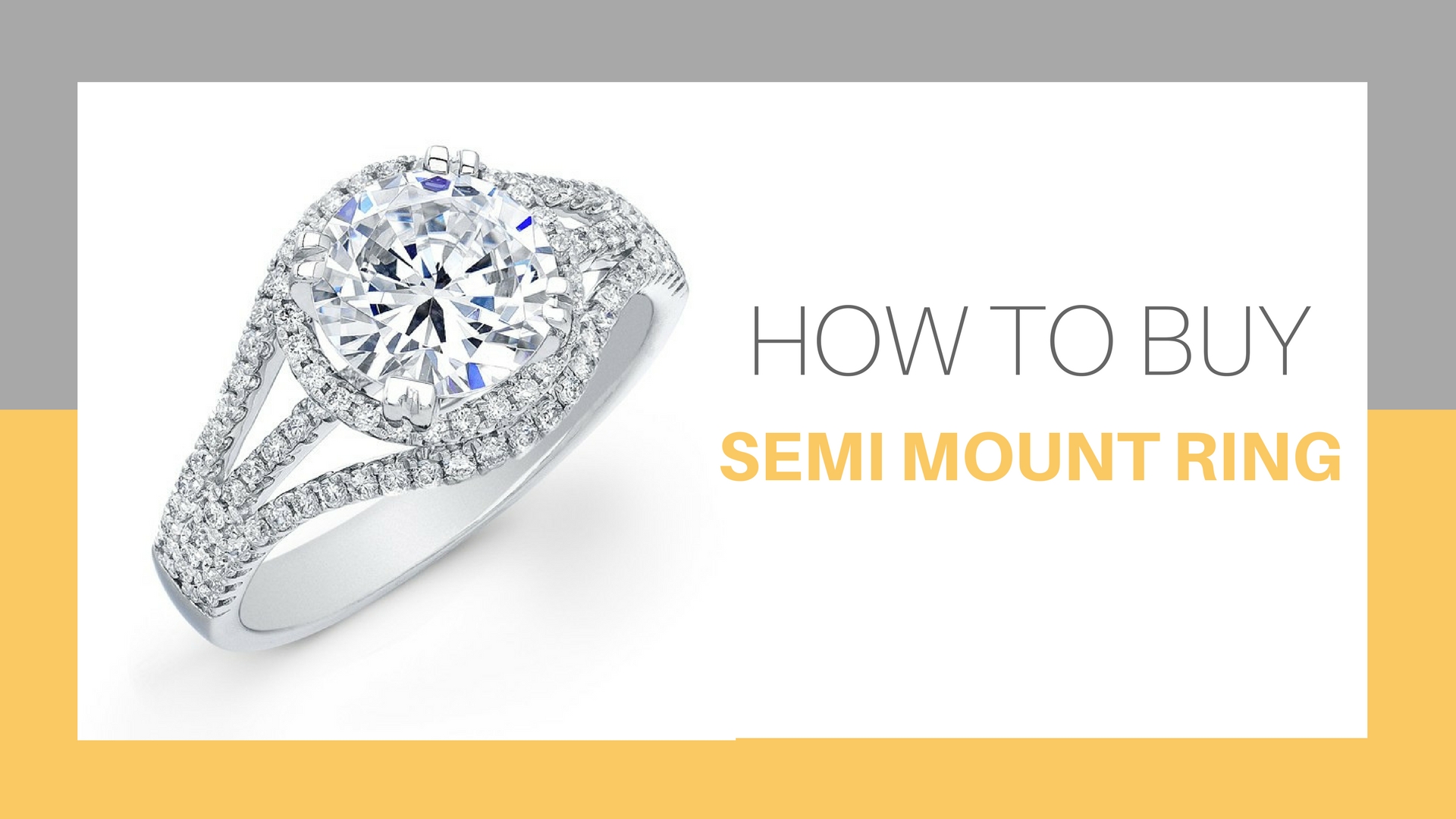 A semi mount ring is a substitute for a ready-made and complete ring which is sold by online and offline jewelers alike. Semi mount engagement rings are therefore in the nature of pre-designed, ready-to-wear, customized rings that are best suited for couples who want special types of rings but are disinterested in designing them from scratch.
These rings are pre-designed and ready with all the minor settings except for the precious stone.
Hence, the term "semi mount" is derived from the action of mounting the ring, which means setting the main gemstone onto the ring band. You can choose the apt setting for these types of rings, also choose a center stone, and then get it all assembled by the jeweler of your choice.
The main stone, a diamond in most cases, is to be procured by the couple, either from the jeweler or from any other source. This stone is then mounted on the incomplete ring; after which the ring ceases to be a semi mount ring, and instead, becomes a full-fledged engagement ring.
For a couple desirous of having a unique and personalized ring, a semi mount ring is a valuable choice indeed. Here are things you should consider before buying your semi mount ring:
Choose the metal carefully for band
The first thing that should be seen is the type of base metal that you need to select for the band. The most popular base metals are 12 carats of 16-carat gold, white gold, and platinum. Platinum is a popular choice because of its durability and purity and serves as a great selection for brides or grooms with sensitive skin. There is gold available in a variety of colors including yellow, rose, white and green as well. The other metals that can be considered for crafting your band would include palladium and even recycled metal band from a mixture of gold and platinum.
Consider the style and choose it wisely
The style for a semi mount ring has to be chosen from the following:
1. Accent rings
Accent rings contain other gems along with the main stone to complement them and are very stylish. The access stones in the semi mount rings can either carry cuts like princess cut, baguette or emerald cut. An accent ring can have a centerpiece diamond surrounded by glittering pave diamonds for casting the right impact.
2. Solitaires
Solitaires rings are regular engagement rings with just one focal gemstone set on the same. Rather than having to settle with the diamond that's already set in a ready-made ring, 'semi mount' solitaires allow you to make your selection from a wide range of loose gemstones. You can also have designs engraved on the rings in line with your choice.
3. Bridal sets
Bridal wedding ring sets comprise of either an accent ring or a solitaire with a marching band. You have the liberty to get the band designed as you wish and also choose a gemstone of your choice separately. You can have bands with your initials engraved on it or even have an intimate message engraved on the inside of the band.
Choose the stone according to your budget
You have to also take into consideration the type of center stone that you would like to see on your semi mount ring. The main USP of semi mount rings lies in the fact that you get to choose your own gemstone. Since the stone is accountable for the cost of the ring to a very large extent, go for one that is within your budget.
The most popular choice of gemstones is a diamond, however, there are many other choices including a sapphire or an emerald. With a semi mount ring you can choose from various gemstone cuts that are available from a variety of sources; these are:
1. One can go for a stone within budget and make a choice from Asscher cuts, cushion cuts, or heart shapes.
2. You may like to reset the diamonds present in an heirloom.
3. Upgrading a simple engagement ring to a more stylish one is a good idea too.
Advantages of Buying Semi Mount Rings
1. It allows for greater flexibility of design
Since the gemstone is yet to be set, the nature of a semi mount ring would allow for greater flexibility of design. These types of engagement rings give off a gamut of options to choose from, rather than a preset one. Buyers can have a say on the cut or the carat weight of the gemstone even after the band has been chosen.
Semi mount rings are already designed. They do not need any extra knowledge of jewelry designing on the parts of their buyers when they plan to buy semi mount rings for an engagement.
On the other hand, if you are looking forward to getting the ring designed as per your preference in entirety, then, prior knowledge on jewelry designs would become a must.
2. Semi mount rings are less expensive
Semi mount rings are less expensive than preset rings as loose cut shaped diamonds are cheaper than diamonds that have already been set. Couples can choose the shape of their preference, the best carat size, and a quality stone – all within their budget and without having to sacrifice the beauty and details of the setting.
Don't go by the saying that you need to invest two months salary into your semi mount ring. Your goal should be to get your favorite ring which is within your budget and does not land you in major debt.
For example, although it may have less sparkle, yet, a 1 carat diamond ring will appear to be bigger. As for cuts, princess, cushion, and oval cuts cost less than round cuts that are the most expensive of the lot.
You can go for your own design and have your own preference of mounted center stone to come up with a flawless, perfect and gorgeous ring.