Looking for a nice diamond anniversary ring for your special someone can be a cumbersome affair. Don't fret! Let's help you look for it.
No occasion is required to buy a diamond ring! With easy selection modes in place on online jewelry portals, you can buy one anytime you feel like. But, anniversaries are a time to renew your commitment of everlasting love for your beloved one, and what can be a better way than presenting a diamond anniversary ring on that special day!
Diamonds are the perfect symbol of the everlasting love you share. Yes, online stores have a wide collection of sparkling diamond rings with some amazing cuts and styles. So folks, go ahead and surprise your special someone!
Commitment of a Lifetime!
Diamonds are durable; therefore, they are a symbol of long term commitment, love and compassion for your partner. A diamond ring is an excellent choice to celebrate your years of marriage. With a wide range of styles available in the market, choose a design depending on which finger you want to put it on, what kind of work you are likely to be involved in, and what fits your budget.
Variety of Diamond Anniversary Rings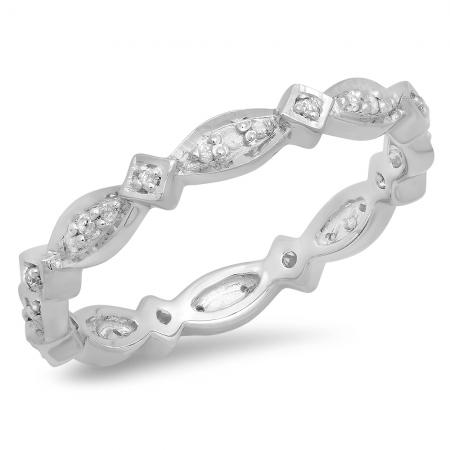 While choosing an anniversary ring, you may want to consider what she likes or prefers, or perhaps coordinate it with her engagement or wedding ring, so that they can be worn together. A diamond anniversary band is a popular anniversary gift for your loved one. The number of diamonds on the ring can represent the number of years of your marriage. Just take a pause, think a while, and you will get the right answer to understand what you should be investing in on your anniversary!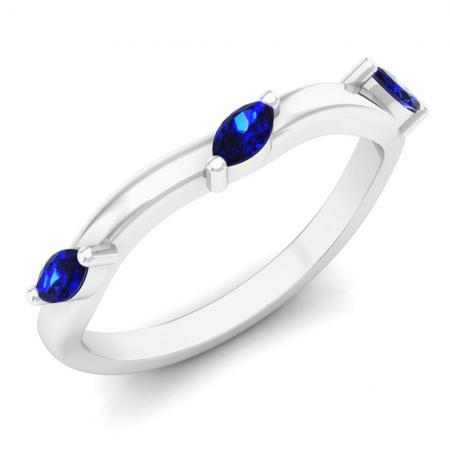 If you are in the mood to splurge, then, there are different designs to choose from like the three stone princess cut diamond ring, the three diamonds representing the past, present and future of the relationship, and the triple twist band where diamonds are set in such a way that they are well protected.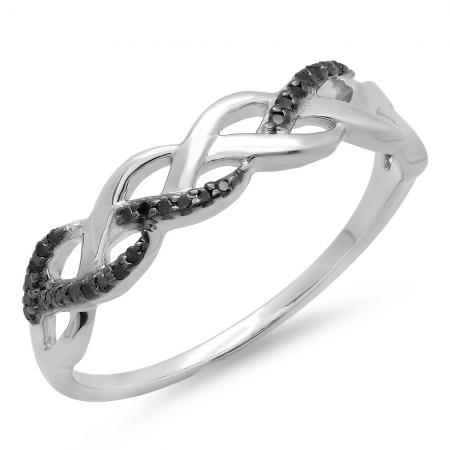 Additionally, there's the pave set diamond anniversary ring and the eternity ring which symbolizes the unending nature of love. The two-tone three stone diamond anniversary rings are for those who are on a budget but still want something special. Some other options in the world of diamond anniversary bands are the starlight diamond band, the rose gold diamond anniversary ring, the marquise and round diamond anniversary band, and so forth. So, there are plenty of beautiful rings for everyone!
For him, and her!
If you thought that all rings are for women only, then you need to think again. If your husband loves to wear a ring, then, why not present him with a diamond ring? There are many options for designer diamond rings and bands for men that are simple, stylish and affordable. The men's black diamond bands and trinity rings are popular choices in rings for men. So, ladies! On this anniversary, for a change, go ahead and present your husband with a diamond anniversary ring that celebrates your special and unique relationship.
Some couples may want to buy matching diamond rings for one another on their anniversary and get them engraved with names or personal messages to make it more intimate. If you are among them, then it would be great idea to invest in an anniversary ring set that you both can flaunt at the same time, and make heads turn in envy!
Choose the Perfect Diamond Ring – the Right Way!
Diamonds are available in different sizes, colors and cuts, so it's difficult to choose and settle for the perfect one. Want to buy a beautiful diamond ring on your anniversary? Here are few steps to help you choose one!
While buying a diamond ring, stick to your budget right from the start or else your credit card bill will make you cry later. Think and decide on your style and preference beforehand; remember there is one for everyone. The color, cut, clarity and carat have to be kept in mind while buying the diamond ring. Invest cleverly and pick smartly from a trusted and reputed jeweler. Seek advice from family and friends, if needed. Also, the diamonds chosen by you should have a certificate of authenticity from GIA, or any other certification agency of high repute.
Care and Maintenance of your Diamond Anniversary Ring
Caring for your engagement ring, wedding ring or an anniversary ring ensures that they remain sparkling forever; thereby symbolizing the everlasting nature of your relationship. The added bonus is that its monetary value is forever on an upward trajectory.
1. Remove your ring while swimming or while participating in sports, before applying lotions or creams; or before housecleaning which involves harsh chemicals and rough instruments.
2. Remove and store your diamond anniversary ring in a safe place, preferably in a ring box or a velvet pouch so that the diamond doesn't get scratched and damaged by other jewelry pieces.
3. Clean your ring at least once a week to maintain the brilliant sparkle of the diamond set in you ring. All you need to do is to soak your diamond ring in a solution of water and liquid detergent, lightly scrub it with a soft bristled brush, and then dry it completely with a lint-free cloth.
4. Every few years, your diamond ring needs professional cleaning by a jeweler to remove any stubborn grime or dirt on it.
5. Get your ring inspected by your jeweler at regular intervals to check the settings, and if needed, to address any repairs.
6. 'Diamonds are forever'. A diamond anniversary ring has a lot of sentimental value attached to it and is a valuable investment; therefore, it should be insured against theft, loss or accidental damage.
Practice few precautions and you can maintain the sparkle of your diamond engagement ring, just the way you have been maintaining the sparkle in your relationship. Eventually, the choice of the diamond ring that is to be presented to your loved one may depend on your partner's choice and your affordability. In love, what really matters is the reflection of the diamonds sparkle in the eye of your partner. Don't be in a hurry; take your time to choose that perfect and beautiful design to celebrate your relationship.