Gold chains are more than just jewelry. They are body expressions donned in the form of golden laces around the neck. Inspiring one and all, the glitter of gold chain necklaces has to be seen to be believed. The choices you make while purchasing the right gold chain comprises of a lot of other variables than just your instinctive choice, and your love for the beautiful manifestation of gold chain necklaces. Since the quality of gold worn by you says a lot about your style statement and personality, your investments in the same have got to be in perfect sync with YOU and your attributes.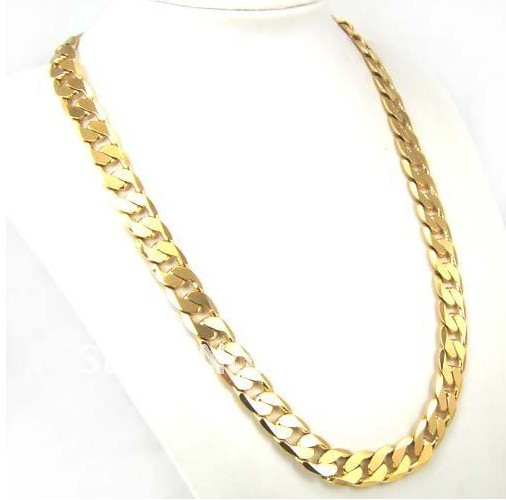 So, whether you are looking for gold chains to flaunt around your neck or to gift to a loved one, this post will help you move forward in the right direction.
The Right Options of Golden Chains for YOU
The options that you may come across while browsing for gold chain necklaces are many. Chains vary in design, thickness, length, purity and many other attributes. They have to be chosen after a lot of considerations, such as the neck type of the wearer, occasion to which they will be worn, and so forth. Moreover, the true allure of gold would go missing if you don't pick the right one.
Sizes are Important
For women, gold chain necklaces are available in different sizes to serve different beautifying purposes. These measurements are in even numbers. For example, a 14" chain is worn tightly around the neck while a 16'' one is worn against the base of throat. These and golden chains of other sizes always look classy, regardless of the attire they are worn with.
The 20'' long chains, and those that are longer than the same, are meant to lie between the receding collarbone and your bust, thereby enhancing your looks with business attire and casual wear alike. In general, the sizes of women's gold necklaces vary from 14'' to 42'', and they are suitable for different neck types and occasions. For men, the choices are not that complicated. Most chains would look appealing and fashionable on a shirt or a sweater.
To Make the Most of Gold Chain Necklaces
Pendants do justice to long and narrow necks. But on short necks, they may look a little thick and disproportionate. So, if you happen to have a short or medium sized neck, you may like to invest in 20-24'' gold chain necklaces that would go below the collarbone and below the breastbone, thereby elongating your neck type and giving off a swan-like impression. People with wrinkled necks should also avoid wearing short and tight necklaces and make use of the longer and slender ones, preferably with a pendant in place.
Another factor to be considered here is the length of the upper torso of the individual. Generally, 22'' necklaces fall on the upper side on the body, somewhere around the collarbone and just touching the bust. However, if the necklace is longer than that, it may end up looking disproportionate on one's body. People with tall or average height can wear any necklace but if a tall person dons a short necklace, it's a mismatch. Similarly, a shorter individual would look better in a short necklace that would reach the collarbone or a little below.
Facial Cuts and Gold Chain Necklaces
As strange as it may seem, your face plays the most important role in choosing the right necklace. Gold chain necklaces are available in different sizes and width, so, be aware of your facial structure as you go about the task of choosing the right one. People with oval faces can look good with necklaces of all kinds, while those with a round face should pick a longer sized chain, with a pendant, to form a V along their face. This leads to the creation of an overall slimmer appearance for their face. Also, gold chain owners with such facial cuts should avoid wearing round chokers as these pieces make their face look rounder than before. Do note that round chokers are usually suggested for long, rectangular faces.
Apparel Acceptance
You might have a variety of jewelry choices in your closet, but even in that, you have a fashion format that you consciously or subconsciously follow. Once you understand this analogy, choosing from a lot of gold chain necklaces is a job that's easily done. Remember, length is a parameter that involves not only the neck type or face type but also the clothing. For example, people fond of wearing turtle neck tops prefer long length gold chain necklaces than the shorter ones. Here, it is important to flash your fashion statement the right way, by choosing the right gold chain that will help you establish an "omni-classical" connect with the same.
Points to Consider while Buying a Gold Chain Necklace
While going ahead with the task of buying a gold chain, you need to keep many different points in view. These include the karat weight of the chain chosen by you, whether it is made of solid gold or not, the links boasted of by the piece, and so forth. For instance, one of the most essential questions that you have to find an answer to is related to whether it is gold plated or made of pure, high-quality gold. For this, you need to understand the karat value of the chain that you wish to buy.
Here, do know that the purest gold chains are less durable and softer than all others. Again, the plated gold chains are cheaper, but then, they may lose their plating after a while, thereby exposing the metal placed underneath. These chains require re-plating from time to time for the restoration of their true color. So, if you intend to wear your gold chain for longer periods of time, or on a regular basis, it is well-advised that you go for the ones made with solid gold. They last better and longer!
As you go about the task of choosing gold chain necklaces, you will come across some designs that are hollow from within. Much lighter than the solid chains in similar sizes, these pieces are less expensive too. If you happen to have a low budget that fails to fit in a chain that appears heavy (which it is not) and expensive, then these hollowed chains would serve to be the best buy for you.
Well…. There is no end to the ways and guidelines that you can follow while buying gold chains for yourself or a loved one. The tips mentioned above are enough to guide you forward in your first buys, and the many that are bound to follow– go ahead!