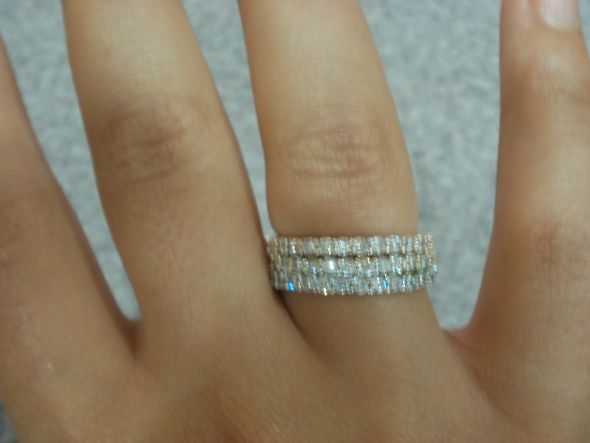 When was the last time you pampered yourself by buying a piece of jewelry? Be it right hand rings, cuff links, pendants or diamond bracelets, sometimes, you need to follow your thoughts of self-celebrating. For instance, you'll love to celebrate your birthday, first day at office, graduation day, etc. with
diamond right hand rings
. Alternatively, how would you like to show off a newly purchased diamond ring with your birthstone firmly embedded in the same? Go ahead; never miss a chance to pamper yourself in the most special way.
Regardless of whether you desire to celebrate single-hood with a right hand ring, or wish to take pleasure in leaving a cumbersome job; you can reward yourself fitfully. Read on for how diamond right hand rings can serve as a good reward for you – anywhere and anytime.
What it Means to Flaunt a Right Hand Diamond Ring?
From classic and simple looking diamond rings for the right hand, to fun and flirty cocktail rings, these days, women are buying different kinds of fashion rings to symbolize their unique style and confidence. Oh yes, the positioning of such rings is brilliant. They state that the wearer may be unmarried or married, may have requested the same as a gift, or purchased the jewel herself.
If you happen to spot a diamond ring flashing on the fourth finger of a lady, you would probably understand what it means. Across most places on Earth, this finger has been the digit of choice that represents betrothal jewelry. And, this symbolism can be effectively traced back to ancient times. However, if you see a glittering diamond ring flashing on the fourth finger of the right hand of a woman, you may not, or may, understand that it represents economic empowerment, an independent spirit, or changing gender mores.
With more and more women earning for themselves and having disposable income on hand, they are not waiting for a knight in shining armor to gift them diamond ring. While it may take decades for this new jewelry concept to work itself into the mainstream thoroughly, the right-hand ring serves to have its own momentum, already!
Glittering Right Hand Rings for You and your Loved Ones
Does it always require a reason for molly-coddling you? Certainly not! Your days and nights of tiring hardships need a reward. Embrace your achievement with a diamond ring and let the world get acquainted with your success. You deserve to own a special piece of jewelry for all the right reasons in your life. Also, if you wish to showcase how special your mother, sister, friend, or colleague is to you, get them a special gift for no reason at all. This is where attractive right hand rings come into play and bring forth your emotions in the right way, and at the best possible price.
Celebrate Single-hood
Though it is a different feeling altogether to get a diamond ring for your engagement or wedding, you do not need to have someone to gift one to you. A successful woman can afford to acquire a diamond ring on her own. Yes, the charm of buying a diamond ring after going through hundreds of designs and styles cannot be denied in any way. So, if you really wish to don one, you may like to wear it on the right hand to not alter the rules of the engagement ring. Celebrate your singlehood—the glittering way!
Diamonds for Life
Diamonds are forever! Considered as lifetime stones, they serve as onetime investments for anybody. If you have planned to buy a diamond ring for you, do remember that it will come along with a good resale value. The good thing is that you may like to use the same ring for yet another purpose – for instance, wear it for your promises, engagement, or even wedding!
Way Forward
Never miss a chance to pamper yourself and get a right hand diamond ring as a self-reward. Greet yourself for a festival or any other event! It can be your birthday, an expected success, or a day that etches fond memories for life; a diamond ring will never fail to celebrate your mood. Wait no longer, splash out on good quality diamond rings (from reputed stores only) to make yourself feel good about yourself.
Checkout our great collection of diamond right hand rings designed for men & women.