Tough to 'match' with any other piece of fine jewelry accessory, a diamond tennis bracelet is exquisite, rich in appeal and very classy too. Ranking on top of the charts for decades in a row, tennis bracelets made in diamond surely have an illustrious status to boast of. Read on for a quick peep into how these bracelets (boasting of diamonds set in symmetrical patterns) earned their current name. And yes, you also get to know a lot more about their designs, ways of upkeep, and what they go best with.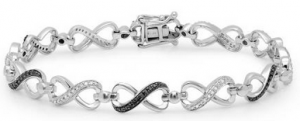 Thank you Chris Evert!
Psssssst……. Very few would know that diamond tennis bracelets were referred to as "In-line" diamond bracelets in the years gone by. A modern folk lore related to world champion and ace tennis star, Chris Evert, narrates the episode well. During the U.S. Open in 1987, Chris was sporting an elegant in-line bracelet. In the course of her game, it broke and the play was interrupted for a while until she recovered her beautiful diamonds. This fascinating interruption had sparked off a lot of media coverage globally and made this piece of jewelry more popular than ever. This episode has given birth to the term 'diamond tennis bracelet.' Do know that tennis bracelets aren't limited to players of this game only? Instead, they are elegant pieces of jewelry that match your classic wardrobe and other diamond pieces to perfection.
Design and Style of Diamond Tennis Bracelets
There are traditionally three kinds of diamond bracelets: diamond bangle bracelets, diamond charm bracelets, and diamond tennis bracelets. Made of platinum, silver, gold or other semi-precious metal, these bracelets are set with well-cut diamonds all around. Quite flexible to wear because of their hinges, they rest against your wrist and hand to permit easy wear-ability. While some designs boast of evenly spaced diamonds, others have diamond flushed against each other, with no gaps in between. The other popular styles include Prong, Half Bezel, X Prong, 3 channel set, shared prongs, etc.
Versatile and Elegant Wardrobe Accessories
Suitable for semi-formal, formal and corporate occasions alike, tennis bracelets serve as versatile fashion statements for contemporary women from all walks of life. Fit for everyday wear, they can be flaunted in the snazziest of evening dos too. Very versatile and exquisite in appeal, this fine piece of jewelry is always accepted with a smile on birthdays, anniversaries or other special occasions. So, go ahead and gift these bracelets in stunningly brilliant styles too. For instance, you may go in for an 'all diamond' look or one that alternates with gemstones like sapphires or rubies. Either way you will be a winner. Choose from an exhaustive collection made of platinum or 14K/ white gold; yes, yellow gold is sought after as well.
Diamond Tennis Bracelets are Best Accessorized with……
Capable of upping the glam quotient of all kinds of outfits, these bracelets are style, elegance and glamour personified. Whether matched with formal or casual wear, they prove to be appropriate with them all. While you may like to wear a diamond tennis bracelet as the only accessory on regular days; it serves your purpose to add a pendant and diamond stud earrings on dressy occasions.
Caring for these Prized Possessions
Tennis diamond bracelet are best worn without anything else on your wrist. Resist from wearing two such bracelets on the same hand as their diamonds may scratch by catching on each other. They can be cleaned by soaking in warm soapy water and then brushing off the grime with a toothbrush.