Gold chain necklaces have always occupied a pride of place in the list of jewelry for men and women alike. Bright, radiant and seldom going out of fashion, gold necklaces can be layered with pendants and other neck-pieces as well. Most cherished of all pieces of jewellery, a gold chain for men or women can be purchased from an exhaustive catalogue of different kinds of chains. Take a look.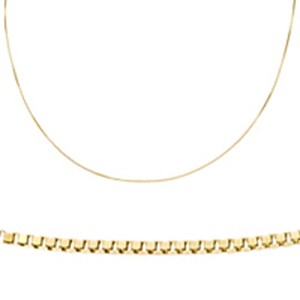 14 Karat White Gold Box Chain Necklace
These chains are made of 14 karat white gold 0.8 mm box chain. These box chains are usually crafted from square units that are placed together to form a continuous and smooth strand. One of the most essential characteristics of this kind of gold chain necklace is that it can be conveniently paired off with a pendant. Additionally, it can be flaunted along with other chains of different widths and lengths. These chains are usually available in three different sizes: 16, 18 and 20-inches. They are secured with a firm lobster claw clasp or other reliable systems.
18 Karat Gold Plated Crochet Chain Necklace
Though these gold chains do not boast of being made from solid gold, nevertheless, they are very impressive in look and feel alike. With a 2 inches extender in place, they are usually 17 inches in length. And yes, they can be held in place with sturdy 1-inch crocheted loops.
14 Karat Yellow Gold Popcorn Chain Necklace
Measuring 2 mm in width, these chains are of Italian make. Complete with plenty of texture, these chains are very appealing to the eye. They are available with rounded edges and are extremely comfortable to wear. The units of Gold popcorn chains are also held together by a lobster claw clasp for added security. Do note that the price of these gold chain necklaces is dependent on their length which varies as 16, 18, 20, and 24 inches.
14 Karat Rose Gold Oval Link Chain Necklace
These oft-purchased gold chains for men and women are of variable lengths too, they are available in lengths of 16 to 36 inches. Almost 1.5 mm in width, they are usually held by a spring fastener.
14 Karat Pink Gold Pink Mini Ball & Chain Necklace
Made from pinkish hued rose gold, these chains are about 1 mm in width. They are quite attractive in looks and can be paired off with other pieces of gold jewellery to perfection.
Conclusion
These days, there is no dearth of online and offline jewelry sellers who deal in such chains and gold chain necklace. As there are different kinds of these pieces of jewelry on the rack, you must choose them with care. It is ideal to go in for a piece that matches your neck contours and falls well to your desired length. They should contain the mark of their maker and have a good re-sale value. Go in for high levels of purity and settle for only those pieces that flatter your personality and style to the hilt.
Gear up for those many compliments coming your way, buy a gold chain today.