Diamond eternity rings, those precious jewels that serve as timeless collection to your trinket box, have a deep underlying meaning to them. Believe it or not, their meaning dates back to many ages and has been traditionally passed down from one generation to the next. Read on for more.

Diamond Eternity Rings: Do they Present a Circle of Life?
Right from the time of the Celtic people, there are historical references that these rings denote the circle of life. Along with their sheer grace, beauty, intrinsic worth, and elegance, this extra meaning makes these diamond eternity rings all the more valuable.
Representing Eternal Love in all its Glory
Because of their completely circular form, these much adore rings are said to represent eternal love. This typically refers to a never ending journey of love that just keeps moving forward. More often than not, they showcase a pledge or promise to forever hold, cherish, and bind loved ones. In the contemporary age, these eternity diamond rings symbolize love as a bond or pledge, which is worn on the finger for one and all to see. It proudly claims, "I have been chosen, I am in love and loved." In other words, these affordable rings act as a physical symbol of the devotion and commitment that love brings.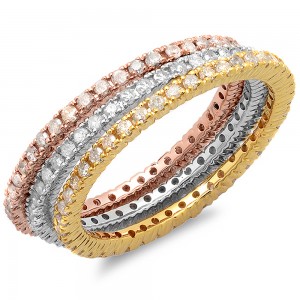 Engagement Rings with a Difference
Generally purchased as engagement rings, these lovely pieces of jewellery are also gifted on special occasions, such as those that mark important milestones in one's life. These milestones may range from an anniversary to graduation from college or high school, birth of the first child, or just about anything else. In recent years, they have been gifted in the Valentine's Week as promise rings as well. Promise rings mark a vow that a couple is much in love and will get married at a opportune time, which may be after getting a job, completing an educational program, or fulfilling a specific domestic commitment.
Elegant and Versatile Diamond Eternity Rings
If you are still wondering about the other utility option of these elegant rings, then do know that they serve as a perfect choice for wedding rings too. As every woman loves to receive a pretty diamond studded ring to immortalize this monumental moment of her life, they prove to be excellent and pocket friendly options for many. These rings are generally purchased just twice in one's lifetime, on the engagement and wedding days. Therefore, it is recommended that they be chosen with utmost care. Additionally, it becomes very important to understand their inlaid meaning too, so as to value them further.
Way Forward
The more traditional eternity rings have a series of small diamonds studded all around the band, thereby forming a neat circle. Should you be interested in buying such a ring, you need to be very careful in selecting a piece that has diamonds set very securely within. Loose setting may make you lose some of these precious diamonds, so, it is always a good idea to make your purchase from a reputed jewellery store online or offline.
Aare you ready to bring the glitter in your life? Buy diamond eternity rings, today.