It is said that diamonds are a girl's best friend. Many an important occasion is made special by diamonds; the ring that cements the engagement between two people – the engagement ring is predominantly made of diamonds; wedding bands, love bands, diamonds are simply indispensible for such occasions. Historically diamonds have been set in Sterling Silver. It has been in vogue even before medieval times. This trend of setting diamonds in sterling silver is now backing with a bang. Many people don't prefer the yellow tint of gold setting off the sparkle of the well cut diamond. Silver sets the diamond off more beautifully and makes even a simple design look regal.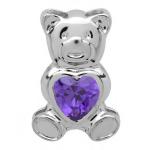 Every imaginable piece of jewelry is available in sterling silver; be it a ring, necklace, pendant, bracelet, anklet, bangle or even tennis bracelets. Sterling Silver Diamond rings are currently the most popular in fashion jewelry. In early times, sterling silver was used widely in jewelry making, silver dining articles etc because it was strong and more resistant to tarnishing. It was also considered a sign or symbol of affluence. Intricate hand carving and beautiful patina have been made using sterling silver. This combined with beautifully cut and designed diamonds makes Sterling Silver Diamond jewelry a trend setter and this is the reason for its popularity amongst all generations. Also, sterling silver is relatively cheap when compared to gold. It is both traditional and affordable to set diamonds in sterling silver, not to mention the added beauty and the stunning combination of silver and diamond sparkle.
Maintenance of Sterling Silver Diamond Jewelry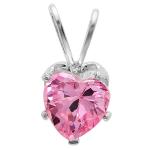 Maintaining sterling silver jewelry at home is pretty simple. One needs to wipe it with a soft cotton cloth and in case it requires further cleaning, warm water and a very mild detergent will do. There are also many silver polishing agents and cleaners available in the market today. One needs to apply the paste or a few drops of cleaner on the silver alone. The polish shouldn't be applied on the gem stone as it might make it appear dull over a period of time. Anti tarnish cloth is also available in the market which can be used to wipe or rub the silver gently and it is very inexpensive. Maintaining diamond jewelry made of sterling silver at home is easy and one needn't bear the expense of taking them to a jeweler. With proper care and maintenance, the sterling silver jewelry will be as good as new and will always be source of pleasure for its owner.
Not only is sterling silver affordable, durable and easy to maintain, it also compliments any gem stone set on it beautifully. There is nothing like sterling silver to highlight the beauty of a diamond.