What better way to announce your engagement than with a Diamond Engagement Ring? And where better to shop than at Dazzling Rocks? Choosing the right ring has always been essentially tricky, but with the wide variety offered here, one needn't look elsewhere and such important occasions warrant a whole wide range to choose from. DazzlingRock.com is the perfect solution for such a situation.
Shopping Made Easy
The Dazzling Rock site is organized into various categories – type of jewelry, the metal we are looking for, the gem we are looking for, the price range, etc. Also, attractive offers and the time period for which they are available are displayed in an eye catching fashion. On hovering over any particular model that we like, information as to the carat, metal type and a brief description of the jewel is displayed. This comes in handy and a quick view option is available as well. The quick view option provides a clear picture of the jewel along with detailed information and a zoom feature.
Ordering an item on line is very simple. Just add it to the shopping cart and either proceed with other shopping or check-out the item and pay for it. A few simple clicks and we are done buying the item! We also get to read the reviews from other customers and shipping information is also displayed. For shoppers requiring assistance, there is the 'need assistance' option, which displays the number to be dialed for assistance.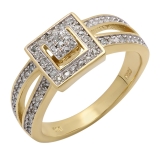 Merchandise Available
Apart from Diamond Engagement Rings, the Dazzling Rock site hosts a wide variety of other products namely – Bridal jewelry, rings, bracelets, men's jewelry, necklaces and ear rings.  There are quite a lot of innovative options available in the bridal section. Apart from engagement rings, three stone rings and other innovative rings, the site allows us the facility to design our own ring! This is an endearing feature for many who would like to customize and design their wedding rings. The site is truly a one stop shop as it features men's jewelry as well. Anything from chains, bracelets, rings and even watches are available here.
Information about warranty and returns are also displayed on the top section in the web site. There is a facility to subscribe to Newsletters for sales, news and contents. Once we register and order some jewelry, tracking the same is important. This is facilitated by providing links for tracking the order. The contact details are mentioned on the top of the web page apart from other details. Shopping on the whole is made extremely comfortable and easy on the site.
About the Company
Dazzling Rock is an online wholesale retailer of diamond jewelry. The website features a wide variety of rings. Be it a classic, contemporary, vintage or simple jewelry, you are sure to find it here. Making the right choice is always a tricky and difficult situation but the web site offers such variety that everyone is sure to find what they have been looking for.
Find more information to https://www.dazzlingrock.com/, Or Call Us at (213) 622-3264.