Diamond pendants are supposed to complete a woman's wardrobe. They are meant to give a royal and elegant look to the most important part of a woman's body – neck. Diamond solitaire pendants are among various types of diamond pendants available in the market. This type of pendant enjoys a very special place in any woman's wardrobe.
Diamond solitaire pendant
In this type of pendant, there is a single diamond with a simple setting on a chain. In some cases, you can wear the solitaire diamond pendants instantly with a diamond in center. In others, a space is left emptied so that customers can choose the diamond of their own choice. This has become very popular as there are plenty of choices available in the market. It gives the customers flexibility to exercise their right of choosing a diamond of their own taste.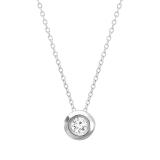 Heart-shaped pendant is very popular among customers. It is considered to be the most eloquent expression of love, care and tenderness. They are also available as a pair of solitaires where one part of the heart is worn as a pendant by women and the other half of the heart is worn by the men.
Another type of diamond pendant is diamond accented pendant. These types of pendants are generally available in white and yellow gold. Though, they are simple but exotic and beautiful piece of diamond pendant settings. These pendants are very well-placed so that they can add sparkle and fashion without being over prized.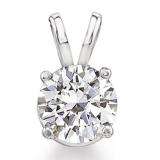 The pendants which come in a shape of flower or heart are called pave pendants. In these pendants, there are small diamonds studded all over the pendant. This in turn creates a stunning and sparkling feel. Because of their availability in many shapes and designs, it is important to be careful while choosing them.
Solitaire diamonds are mostly available in transparent white color on gold or platinum. This is mostly suitable to almost all the outfits and at all the occasion. The aura of this diamond pendant is such that it actually serves the purpose of the make-up and gives that exotic look and subtle comfort to its wearer.
Most unique aspect of solitaire diamond is that it is very robust and does not succumb to chemicals. This very aspect makes it everlasting and easy to care. There are number of on-line stores which sell such pendants. But, care must be taken while choosing the right pendant for your loved one.