Earrings are compulsory accessory in every woman's wardrobe. Couple your precious gemstone earrings with some diamonds to enhance its value and look. Various gemstones like rubies, amethysts, sapphires, etc. can be put together with real diamonds for more beautiful effect. Such gemstone diamond earrings brighten your face and the overall look by adding shine and glamour to your look. Just imagine a beautiful sapphire coupled with a brilliant round cut diamond. Wow it would be such a beautiful combination to wear!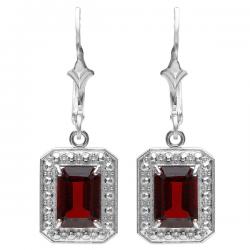 You can purchase it for yourself and if you are male then this would be the perfect thing to gift to your lady love. Birthdays and anniversaries are good occasions to celebrate good times and gift the birth gemstone with diamond settings in the earrings. For instance May born female can be gifted emerald gemstone diamond earrings, whereas July born female can be gifted with ruby gemstone diamond earrings. You know April born people have diamonds as their birthstone, hence pure cheap diamond earrings with borders or other designs can be purchased.
You can buy a gemstone diamond earrings pair with her favourite gemstone in middle ordered with small diamonds or vice-versa. This piece of jewelry is very versatile and can be gifted on any occasion and event. The combination of gemstone with diamonds gives a very memorable different look which suits women of all ages and countries.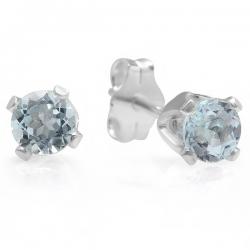 Even if there is no occasion in the pipeline, you do not need a special day to purchase to gift gemstone diamond earrings. They can make you feel special any day and can be given to express your love and care by this brilliant piece of jewelry. Couple your earrings with a matching pendant and chain to complete the look of your dressing.
Different types of designs and patterns can be created by mixing colored gemstones and diamonds. Like a simple flower design, butterfly design or heart shape design and many more can be experimented with this special combination of precious stones. It depends on the imagination and creativity of the jewelry designer, how they get creative with them.
It depends on your choice which type of design you want to wear as gemstone diamond earrings. Some women like the traditional style of a focal stone with stones bordering it, while some like contemporary designs with new styles. Checkerboard pattern is one of the most favorite and hottest selling designs in gemstone diamond earrings. You can buy a good pair from a reliable and trustworthy online jewelry shop, where you get to see many designs and purchase them just a click of the mouse!
Visit us more information at https://www.dazzlingrock.com