The lovely birthstone of the month is aquamarine, this month's highlighted gemstone. This Gemstone jewelry is the ideal birthday present for her because of aquamarine's therapeutic properties, extensive mythology, and distinctive color.
Aquamarine Birthstone For Those Born In March
The lovely Aquamarine Birthstone symbolizes the ocean's beauty, serenity, and inspiration. A piece of aquamarine jewelry is a wonderful option for a present for a March birthday.
The stone makes the ideal present when put in a gorgeous piece of jewelry. She will like an aquamarine ring, earrings, bracelet, or pendant. Wearing aquamarine jewelry is believed to promote sentiments of recovery, compassion, flow, and peace.
It should go without saying that this gem has a long history of being connected to the water, given its name. Aquamarine is said to be the gem of mermaids and is associated with the peaceful, soothing energy of the ocean. This gemstone is associated with emotions and intuition due to its relationship to water and the sea, assisting in maintaining both calm and clarity.
It can also be an excellent stone for creativity and communication because of this influence. Lastly, aquamarine was once thought to revitalize marriage by reawakening love, excitement, and yearning.
Women are naturally attracted to aquamarine's calming but energizing beauty and qualities.
So the aquamarine birthstone is a lovely gift that the woman in your life will like. Mainly if her birthday falls in March, but even otherwise.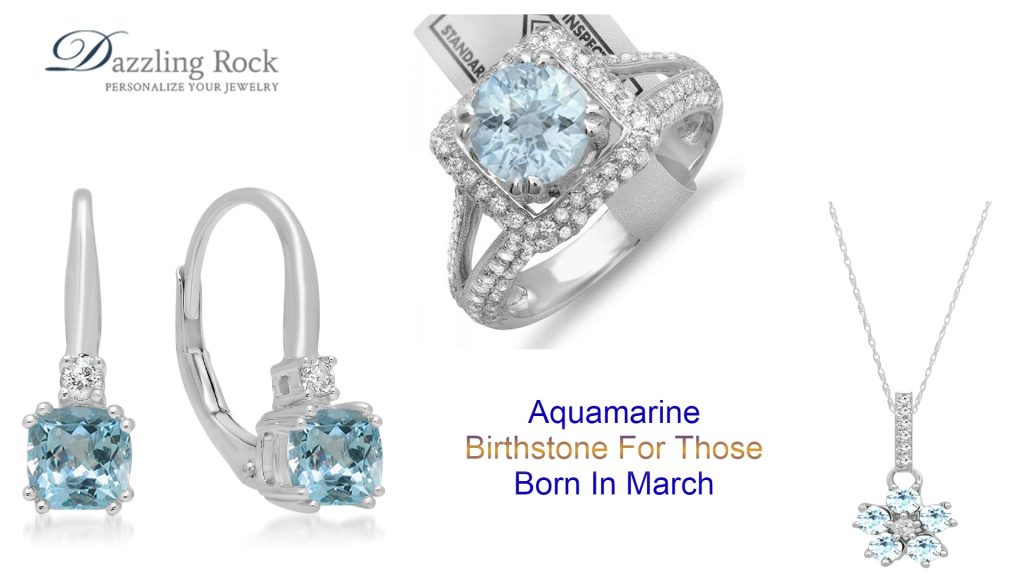 Myths And Beliefs About Aquamarine- The March Birthstone
Romans thought that carving a frog into a piece of aquamarine would promote amity and bring adversaries together. Another widely held notion was that the stone preserved the youth and joy of love. When a couple had been married for a more extended period, aquamarine was sometimes given as a gift to the bride by her groom the morning after they had been legally wed.
It was believed to reawaken their love for one another. Soldiers felt it made them invincible, while sailors thought it kept them safe at sea, especially in ferocious storms.
Why Is Aquamarine The Ideal Present For Her?
Aquamarine is not only a fantastic March birthday gift suggestion, but it is also the designated stone for the 19th wedding anniversary. So suppose you're looking for an elegant aquamarine necklace as a classic anniversary gift or want to amaze your Pisces sweetheart with a special birthday present for her. In that case, the selection of aquamarine jewelry at Dazzling Rock is available in a wide range of cost-effective designs.
In contrast to many other stones, it is available in various sizes, allowing you to choose from dainty pendants to striking fashion rings, earrings, and more. Its longevity makes it also very simple to maintain. Gently scrub it until all dirt or filth collected along the road is removed using a soft brush and soapy water.
Due to its cheaper cost, this gemstone jewelry is an excellent substitute for traditional diamonds in fashion jewelry, even as an engagement ring's focal point. Aquamarine engagement rings are standard due to the stone's ability to strengthen love, especially now that the stone's fashionable color has gained attention.
What Makes The Aquamarine Jewellery At Dazzling Rock Unique?
This lovely gemstone is so rich in symbolism, mythology, and reverence that it will become a gem everyone will cherish forever when placed in exquisite jewelry. Talented Dazzling Rock designers uniquely make each aquamarine birthstone gift since the company is dedicated to creating exquisite jewelry.
Each stone is explicitly picked for its beauty and brilliance. Because we exclusively buy natural stones and not lab-created ones, our aquamarine collection includes various hues and tones.
You can create a unique birthday or anniversary present highlighting the stunning gemstone's inherent beauty with customizing options like engraving. Still, looking for gift ideas? Check out these fantastic aquamarine gemstone jewelry options:
Necklaces
With our vast selection of aquamarine necklaces, pick between classic round or pear-shaped pendants. We are confident you will discover a stunning piece to adorn any neckline with diamond embellishments and modernized classics.
Earrings
The wide range of sizes available in aquamarine makes it simple for Dazzling Rock's talented designers to create unique earrings, particularly for her. Choose aquamarine stud earrings for a touch of glitter, or make a statement with our snowflake fashion earrings. Whatever you decide, she will like her thoughtful birthstone gift.
Bracelets
Choose a bracelet from Dazzling Rock's collection to give her. With so many possibilities available, you will find the ideal aquamarine gemstone present! But do you need a thought? Gift an aquamarine tennis bracelet to someone special and make her feel more special.
Rings
Choose a brilliant ring with the help of this adaptable gemstone in timeless 14k white gold, white diamond aquamarine ring, and eye-catching white gold. Then, make it the center of attention with simple, gorgeous designs like an aquamarine rose gold ring, or accentuate its eye-catching features with carefully chosen gemstone embellishments.
Final Thoughts
Presenting someone with jewelry made of aquamarine is the ideal way to make them smile and show them how much you care. The aquamarine gemstone jewelry is sophisticated, charming, and ageless. Anybody may wear it and look gorgeous because it complements every shade of skin, hair, and eye.
Whether you or anyone you know was born in March or you just like crystals, there are many ways to incorporate aquamarine into your daily life. It is a stunning gem with a rich history.
It is, therefore, the most excellent gift and the ideal present for a birthday in March. Our Aquamarine Gemstone Jewelry Collection at Dazzling Rock has everything you could ever want. So explore more and more design options and make the perfect choice for your loved ones.