A spectacular uplift to one's complete appearance can always be achieved with the proper jewelry choice, which is also ideal when experimenting with details. First, it is crucial to understand which fashion trends would enhance the facial structure in this process. For example, diamond earrings are a classic accessory that looks appealing to any attire or outfit. Diamond earrings will complete your look, whether you are wearing a ball gown or any other party-wear attire, by adding the perfect amount of beautiful sparkle. But if you are looking for diamond earrings, especially if they are your first set, you might wonder which design would look good. 
And even though earrings are the closest to your face of all jewelry, it is crucial to know how to pick earrings that complement your face shape. Depending on how the wearer styles, various earring designs will have a distinctive impact.
When a set of earrings highlights the features of your face, they have an impression. The earrings should complement your outfit's color, cut, and texture for a remarkable appearance.
Add whimsical ear climbers, small hoops, studs, or short drop earrings to complete your everyday ensemble. 
Natural diamond earrings with delicate accents like enamel or colored gems can quickly become your go-to item. Still, a combination of diamonds in various cuts could prove to be the show-stopper.
Choose The Best Pair Of Diamond Earrings
The earring is one of the most recognizable pieces of jewelry; it draws attention to your face and adds glitz to your outfit. With so many possibilities for diamond earrings to match your fashionable attire, it's critical to understand how to choose the best earring style for your particular face shape. Understanding facial structure will help you choose the right diamond earrings to complement any formal, professional, or informal occasion.
Do you need to know which diamond shape will complement your facial shape the best? Find your ideal diamond earring type by looking through our deep explanations of different face shapes. What's your favorite style and design– simple basics, modern classics, modern standouts, edgy lookers or single earrings?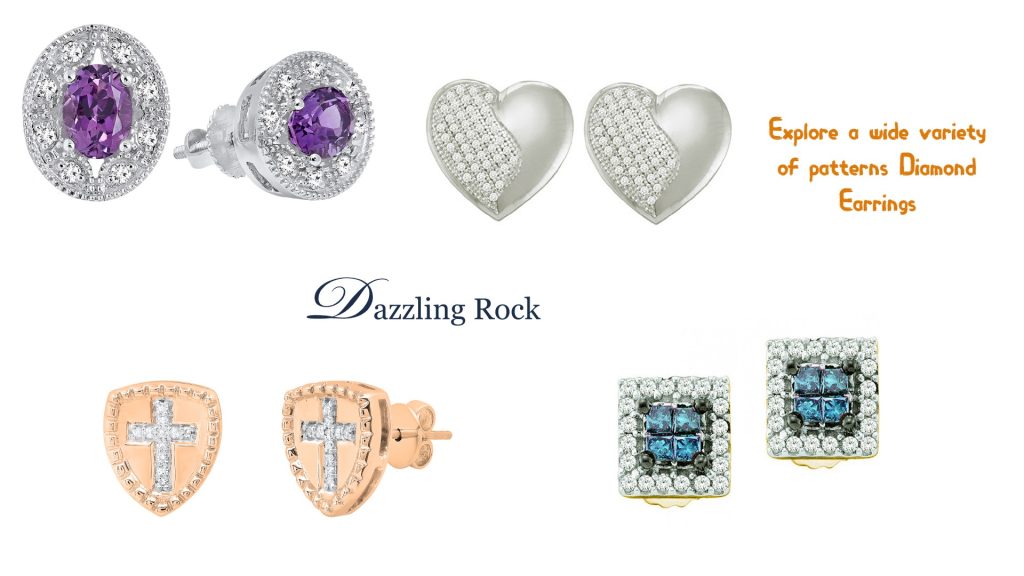 Let's discuss the perfect diamond earrings for your face shape-
1. Diamond-shaped face
The cheekbone area of a face with a diamond shape is the widest, whereas the chin and forehead are around the same width. Therefore, the face seems longer with the diamond shape.
Choose earrings that curve with the natural curves of your face rather than ones with severe angles or outlines.
Examples of such earrings include mid-length teardrops or linear earrings with delicate embellishments or elaboration on the lower half of the jewel. Remember to stay away from long teardrop or chandelier shapes as well. Do not forget to check our collection of cheap diamond engagement rings.
2. Round-shaped face
A face that is round or almost round has larger cheeks, a wider hairline, a rounded chin, and cheekbones, which are the face's broadest features. Wear thin danglers and linear drop earrings with rectangular, oval or teardrop designs to make your face appear more narrow.
For everyday wear, studs are an excellent option; triangular studs or stud diamond earrings in any geometric style are both suitable. However, people with such faces should avoid wearing excessively large studs, bulky shapes, or patterns resembling their faces. Instead, explore our vast collection of gemstone diamond earrings and morganite diamond earrings and make the perfect choice for yourself.
3. Oval-shaped face
The foreheads and chins of oval face types are proportionately balanced. Therefore, oval face shapes may fit any diamond form somewhat beautifully because they are exceptionally well-proportioned! Oval faces are emphasized by studs or medium-length dangles in most geometric shapes like ovals and teardrops. Avoid wearing long danglers and shoulder dusters since they make a face appear longer.
4. Heart-shaped face
Consider an upside-down triangle or fan-shaped earrings when imagining a face with a heart-shaped shape. These features include a pointed, small chin and a large forehead that progressively tapers or narrows from the temple. The goal is to wear long, slender danglers and pendant earrings to give the appearance of length rather than earrings that emphasize the broad cheekbone. In addition, danglers with intriguing design components at the bottom draw attention to faces with a heart shape. Choosing the proper earrings for your face shape adds elegance to your appearance.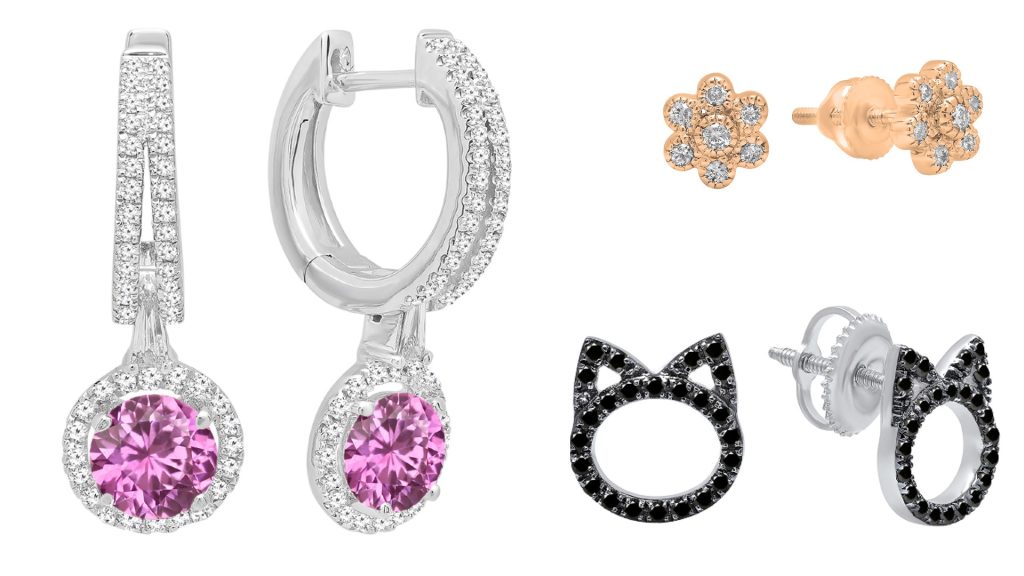 5. Square-shaped face
Cheekbones and the jaw line are almost the same width on people with square faces. Therefore, the ideal earrings for a square-shaped face are simple, rounder ones. Geometric or curvy-shaped earrings mostly look more appealing on a square-shaped face. Avoid wearing earrings with pointed forms for square-shaped faces. In the same way that dangler earrings with round or oval components are adorable, circular studs are also fantastic jewelry accents.
6. Rectangular-shaped face
Similar to a square-shaped face, a rectangle face tends to be longer. Diamond earrings with intricate designs, circular outlines, or curved forms best complement such face features. Moderate-length roundish drops and pendant earrings with a slight length are also ideal choices. When deciding between the different styles for your pair of diamond earrings, consider whether you wish to add softness or boost angularity if you have a rectangle face shape.
Conclusion
There is generally no ideal face shape because every face type has particular characteristics that can be highlighted with the right accessories. Never be hesitant to try new things since finding the jewelry that best compliments your appearance needs trial and error. Earrings are made to draw attention to the inherent beauty that dwells within each of us.
So find that complementary pair of diamond earrings by digging through your jewelry box. You might even go shopping for new styles and designs. Never forget that your smile is the most attractive and significant accessory you will ever wear!
A piece of outstanding fine jewelry is available at Dazzling Rock for highly reasonable pricing. Explore a wide variety of patterns, styles, materials, and qualities on our website today. We hope now you can easily choose a pair of gemstone earrings that fits your preferences and price range.