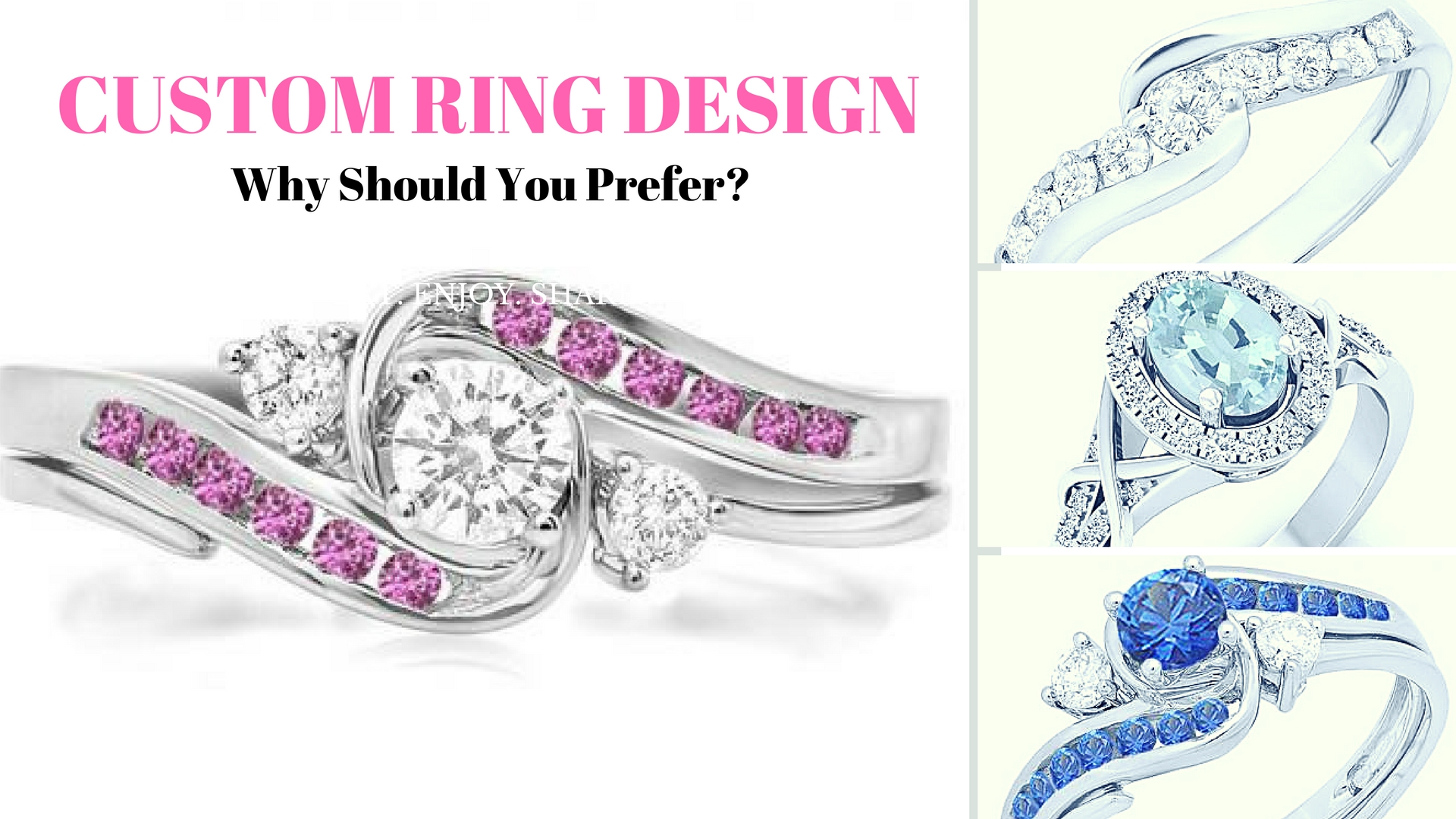 Each committed relationship, including the love it stems from, is very different. That is why you need to get a ring that not only symbolizes the uniqueness of your love for your spouse but one that will look good on the finger that will carry it for a lifetime. Art is born when a custom-made jewelry piece is designed. The jewelry designer works in hand with both the buyer and materials. This is to say; high-end craftsmanship is used. Right from the gutting of the gemstones to positioning them, a skilled designer is involved throughout the process. Custom ring design made by hand, and the result reflects the effort, time and skill used.
Therefore, instead of just jewelry, you get wearable art. Custom ring design also gives the freedom. When surfing through a designer's field of work, you would probably come across two or three designs that you like. Instead of having a problem choosing among them, personalized designing allows for new creation altogether.
By working with a jewelry designer, various jewelry designs can be combined to make the piece of your dream. Besides, designs that are not created can be actualized. When you have an idea of the unique diamond ring you wish to give your fiancé, but find it hard to get, customization is the perfect option.
Moreover, whether you create a custom ring design for someone you love or for yourself, the result will be inspiring. However, even beyond this process of working with the designer to create that custom piece, this will be something you will never forget because, when it comes to personalizing, your desires are what matter most.
Making an informed decision
Before you make that vital decision to have your custom ring design whether its anniversary rings or engagement rings, know the pros and cons, to understand what it is going to take to make that inspired idea a reality.
Benefits of Custom Ring Design
1. Your ring will feel creative and inspire a pure match for your individual personality
It reflects your values and interest
2. No one else will own a ring exactly like yours
3. A truly unique design garners attention and become a conversation starter for many years to come
4. By designing matching rings, you can create a sign of who you're as a couple
Cons of Custom Ring Design
1. It is expensive; it should not be a surprise to you when you pay up to three times more than what you would for a non-custom ring. How much you pay would depend on how elaborate the design of your ring is, how far it diverges from traditional jewelry design and the number of diamonds or other gemstones you choose to stud in the ring.
2. It takes a lot of time; on the lower end, looks forward to a well-planned design could take months to go from idea to finger.
3. It needs more involvement (a good deal of collaboration and several touch-point meetings) from you.
4. It is unpredictable; you will not have a chance to touch, see and feel the weight and look at the actual ring until after the work is completed.
Understanding the process
Specifications vary according to your requirements and the jeweler you pick, but in general, here is what you should expect when designing a personalized engagement ring or wedding ring.
Sketching out your idea
Start with the question:
Do you have a distinctive vision of the ring you want?
Keep in mind that, wanting "something unique" does not necessarily mean going the custom route.
Why?
Because any engagement jewelry can be designed to be unique.
After you sketch your ideas, the best way you can, if your ideas are not super-specific, or you want to further eloquent your desired style, you would need to visit jewelry shops search on the internet, for inspiration on elements that you could add to your sketch. The elements (unique settings, organic lines, mixed metals, decorations) that catch your eye should be represented properly in the sketch you provide your designer. The more specifications you get with what you hold in mind, the more aptly you will be able to express it to your jeweler. This will improve the chances of getting exactly what you want.
Finding the perfect jewelry designer
Once you have the idea in mind, you will have to find a jeweler who does custom designs. Begins with a jeweler you trust and know well. Regularly, your jeweler will always have someone in-house that creates custom designs or would be able to refer you to a trusted colleague. If not, turn to referrals from friends and family. Follow all the guidelines for finding a jeweler as if you were buying a non-custom ring.
When getting a jeweler to design a custom ring, try to find out more about his or her previous work. Recognize that, being an artist, a jeweler will always add his/her own touches and skills to your ideas, so you will want to be sure that you like the elements, weight, and style of their previous work.
Collaborate
You have your sketches; you have found a trusted jewelry designer, now engage in an elaborate conversation to get your work moving in a right direction. Once your personalized ring is underway, ensure to review full-color illustrations, pictures made by computer-aided design, CAD, or mock-up in wax of the final project so that you can shift directions and give input if the prototype is not what you wanted or expected. Also, ensure you see all elements (stones and metal) in person to have a good idea of how the design is going to turn out.
It is normal for you to feel intimidated when talking to an experienced jewelry-designer about how you want your ring to be designed. He/she is the professional with many years of experience, passion, and artistry. However, do not give up on voicing your concerns and asking questions. Remember it is your ring, not the designers.
Protect yourself
Take some extra care by getting guarantees and warranties when working on custom design rings. Get everything in writing. Finally, yet importantly, keep in mind that its value is greater than monetary, so be sure to get an insurance cover for your ring.
With the points we have discussed above, you are now ready, as you have the knowledge of what is needed when going for a customized ring, and know why you should prefer custom designed jewelry for your life partner.