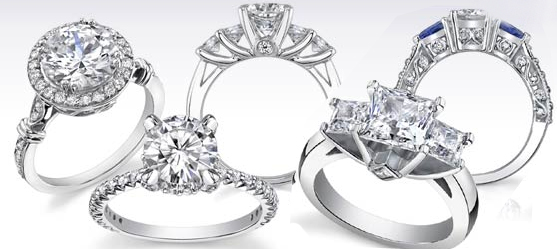 Diamond is unique and so as diamond rings. If you are dreaming of getting the most unique of diamond rings available off-the-shelf for your big day, which is probably just around the corner, this post can certainly be of some help. There are plenty of styles and metal options to choose from, but the following are the 8 hottest unique diamond rings trends. Let's explore top trends in diamond rings for 2017/2018:
The Halo
In Halo setting, small gemstones surrounding the center diamond adds to the glamor of your ring. Top jewelry designers believe vintage-theme and geometry based halo-setting diamond rings will become a huge trend in 2018.
A Pinch of Color
A splash of color makes your diamond ring look bold and beautiful. The colored stone ring was quite in vogue last year and the trend will remain on high charts in the current year too, say the leading jewelry designers.
However, instead of a single color stone ring, this year it will be more of a two stone ring. Imagine a ring with a sapphire and white diamond stone in it or a double halo ring with pink and white colored small diamonds encircling the center stone.
Indeed two-stone ring style makes an excellent choice when there is a splash of color. You can browse online jewelry stores to explore some more ideas of diamond rings with a pop of color. You will find many rings that will make you fall head over heels.
The Sides' Embellishment
If you like a non-traditional style and need more diamonds instead of one big stone in your diamond ring, you should consider shopping a ring that has smaller diamonds in the row on both the sides of the main setting, unlike the Halo setting. It's all about some extra sparkle, isn't it?
The Antique-Style & Vintage Rings
You can never go wrong with a Victorian era or Edwardian era inspired diamond ring on your finger. It looks classic and sensational at the same time. These rings have more intricate designs with a touch of feminism. So many diamonds, colored gemstones and precious metal in these vintage-inspired and antique-looking diamond rings will make you fall in deep love with them. These jewels have a unique charm.
Black is the new white
No, it's not the Paul Mooney book I am referring to. It's the black diamond rings instead. Yes, you heard me right. Black diamonds are making a huge trend in the jewelry world this year. It's unconventional but it is a sure shot way to have a truly unique diamond ring that will make you stand out in the crowd. Black symbolizes power, elegance, and passion. A princess-cut black diamond engagement ring with white diamonds looks breathtaking!
The stackables
Many modern brides are under the complete influence of stacked diamond rings and bridal sets. This style has been gaining good popularity in last few years and if we hear to the designers, there will be more brides in 2018 that will choose stacked diamond rings and diamond bands for their wedding bling.
Well, keep your eyes on Instagram and Pinterest accounts you follow, and you will surely notice many feeds with stacked rings. The coolest part is, these rings are totally customizable. Meaning, you can wear as many bands as you wish. Adding some more glitter on your ring finger isn't bad at all! A trio stack of white diamonds and yellow rose and white gold rings look wonderful.
The Square Diamonds
Square shaped diamond rings are a next big trend to watch out for while shopping your engagement ring. Many popular celebrities who have got engaged recently have fallen for the square-shaped center diamond engagement ring. This style is more suitable for those brides who are looking for minimal glamor and want a ring to symbolize their distinguished persona.
The split double shank
Imagine one diamond band splits into two bands and then meet at the center diamond stone. Double shank trend became popular in 2017 and 2018 will see diamond rings with pave bands, say the designers. If you are looking for one-of-a-kind style for your engagement ring or wedding ring, diamond-studded split double shank makes a fabulous choice. It's unconventional, contemporary and dazzling.
Now you know the 8 biggest trends in diamond rings for 2017 and 2018. Start shopping online!