Diamond is synonymous with love, sensuousness, tenderness and brightness. It is therefore always associated with expression of love and care. Hardly there is any fairy tale in the world of love and romance that does not include diamonds as one of the elements that strengthens the bond.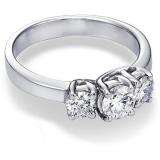 There are many types of diamond jewelry, but diamond rings enjoy a special significance because it is a kind of an official seal to a very special relationship. There are many types of diamond anniversary rings. Some are known as eternity rings. These are very interesting rings in the sense that they encircle the finger in diamonds without any end or beginning.
Some of the rings share their similarities with diamond wedding bands. These types of rings are preferred very much as a fancier alternative to the simpler ring presented on the occasion of marriage anniversary. In diamond bands, diamonds are encircled partially forming around just a part of the band.
Types of Diamond Anniversary Rings
As they say, all fashion is omnipresent in every age and every period. Traditional, channel-set diamond bands and heirloom pavé-encrusted styles are popular in the same way the newer style that is three-stone rings are popular.
Three-stone rings take popular stone shapes such as brilliant-cut diamonds and princess-cut diamonds. These essentially imitate brilliant-cut, but rather in a square shape. In these rings, three stones may be of the same size but the center stone is supposed to be larger and flanked by two similarly-shaped smaller stones, and mounted higher to make it more prominent.
Some diamond rings are made of Baguette or emerald-shape stones. These types of rings are not very radiant due to their elongated, step-lie facets. For a three-stone ring, any diamond shape is good. However, some of the favorite shapes of women are pear, marquise and oval as they look best on their hands. When the diamonds are carved in white-gold or platinum settings, they look larger and more visible.
The world of diamonds is huge and wild, and there is every chance that you may get lost while deciding for the perfect diamond ring. In order not to get lost, one should focus on four things: cut, color, clarity and carat. If you have these four things in mind, there is little chance that you choose a wrong gift for your loved one. The higher the carat, the more expensive the gift would be.
Find more information to https://www.dazzlingrock.com or feel free to call us at 213-622-3264