Dazzlingrock.com presents you outstanding and magnificent collection of diamond right hand rings at unbelievable discounted rates than market prices. They have a wide collection of these rings in sterling silver and 18k gold in stunning designs and patterns.
Left hand diamond rings are known for expression of a relationship commitment either of an engagement or wedding. Now the trend of wearing diamond right hand rings is fast catching up with the masses. There has been steep increase in the number of people purchasing these rings.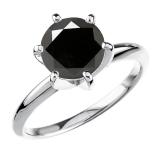 Right hand rings may have precious diamonds in them, but they are different from engagement or wedding ring. These rings have more of a decorative and luxury look than wedding or engagement rings. Diamond right hand rings can be gifted to anyone or even purchased for self.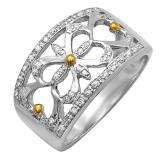 Earlier wearing right hand rings was to denote that the person wearing it did not had engagement or is married. Now-a-days everyone is flaunting diamond right hand rings whether engaged or not. They have become incredibly popular and have taken over costume jewelry. Women of present generation want something extra than wedding jewelry. Real diamonds have always been favorite among the fairer sex, therefore diamond right hand rings have become very popular.
Diamond right hand rings are great item to gift or even receive. This can become a great birthday gift or congratulatory gift for someone. These rings even constitute as a great promise or mother ring. At Dazzlingrock.com you get the chance to choose from so many different designs that makes your choice hard. Even though you are in a relationship, these rings can be gifted to your lady that would surely feel special about herself. Usually diamond right hand rings come in big designs, but you can also find delicate designs to choose from.
These rings are great for treating or pampering yourself, a great way for a female to express her feminity and style. Fashion conscious female loves to wear right hand rings, many well-known celebrities flaunt diamond right hand rings in public. It goes well with women of all ages and countries. The design you choose would be a reflection of your personality. You can enhance your look by teaming these rings with a simple and sober pair of diamond earrings.
At Dazzlingrock.com you can find the latest designs of fine craftsmanship with 100% guarantee of product quality.
Find more information at https://www.dazzlingrock.com/ or Feel free to call us at 213-622-3264