Tired of diamond jewelry in gold and platinum? Dazzlingrock.com offers designer collection of sterling silver diamond jewelries for various occasions of life. You can purchase it for yourself or even gift it to someone.
Diamonds are loved by every woman and they are considered as a woman's best friend. People prefer diamonds over any other precious stones, but most of the people cannot afford it due to its high cost. Sterling silver is one of the favorite precious metals, Dazzlingrock.com has a wide range of sterling silver diamond rings, bracelets, earrings and pendants. They can be worn at any occasion whether casual or formal.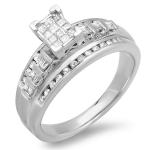 Sterling silver has become very popular among the masses due to its durability, low cost, delicate look and extricates designs that can be created with them. The jewelry designers of Dazzlingrock.com design very attractive patterns of sterling silver diamond jewelry. These jewelries are good for adolescents and even teenagers, as these pieces look extremely fashionable yet in budget.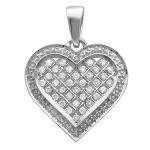 In comparison to gold and platinum, sterling silver comes very cheap and has similar shine and life. The overall look and beauty of these jewels can adorn any outfit and suit any occasion. Dazzlingrock.com is one of the most trusted name in online jewelry shops that offer 100% guarantee for their products with 30-day return policy if any problem arises. You can browse through a wide range of sterling silver diamond rings, bracelets, pendants and earrings on their website and pick the one which you like. Their prices are very reasonable in comparison to other websites. People from different countries purchase jewelry from their website.
The designs on this website range from classic to unique which you would love at the first sight. Sterling silver diamond jewelry is perfect item to gift someone or even buy for you as a treat. Your wardrobe would have a complete finishing touch with sterling silver jewelry studded with precious diamonds. They have some finest of silver craftsmen of the industry that take care of minutest detail that goes into designing, thus the overall shine and finish of all their jewelries are perfect.
If you want to buy diamond jewelry being in budget, than sterling silver is perfect choice. View the complete collection on Dazzlingrock.com
View their entire collection and get additional information about their online jewelry store from https://www.dazzlingrock.com