Diamond cocktail rings are meant to make a strong and everlasting fashion statement having one large stone set-up in the center surrounded by small stones around them. Nearly all fashion conscious women have one such piece of diamond cocktail ring in their accessory collection. You can experiment with your look with diamond cocktail rings like vintage, hip, casual and metropolitan.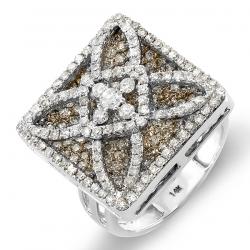 A good piece of diamond cocktail ring can help create magic with your present outfit, but here you have to be selective when choosing the ring's style, setting and its purpose of use. You can easily find elegant type of such rings in the market, one such example is ring with a cubic zirconium stone made in white gold or silver. Such rings compliment any evening or cocktail dress.
Women who love to experiment with their wardrobe and like to flash a fun and casual look can buy diamond cocktail ring with colored stones or gems. Extremely budget conscious people also opt for faux gems, but you have to be very selective in this regard. Simplicity and soberness are always welcomed by the masses, therefore avoid gaudy rings as it can spoil your fashion image in the society.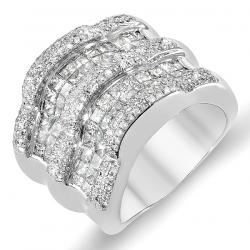 When you wear a big diamond cocktail ring, other accessories have to be toned down accordingly. Keep the choice of accessories smaller and subtle. For instance the watch, necklace, earrings and bracelet. Do not transform yourself into a Christmas tree by wearing too many flashy things, one accessory that makes a bold fashion statement is more than sufficient.
The color of the diamond cocktail ring is another important thing which you have to decide before purchasing them. The color selection depends on a variety of factors like, whether you want it for a particular dress or in general, your lucky color, etc. It depends on the personal choice of the wearer.
These rings are mostly made in white gold or silver metal. Avoid getting them in any cheap material, as the overall show and value of this ring would come down. The metal choice usually should be such that accommodate both formal and informal occasions. Thus you save in money, because you don't have to buy different rings for different occasions.
Whichever color or style you choose, the ring should be flattering to the wearer. The ring should compliment the hands and it looks beautiful. The size and fit has to be right to avoid any discomfort, also the size of the ring should compliment the size of the hand.