Jewelry and women are two inseparable things, very women is fond of some type of jewelry in order to enhance her beauty and feminity. The choice of her jewels can tell a lot about her tastes, personality, fashion sense and her sensuality too. You can say that choosing right piece of jewelry is an art for a woman. She should know which color, shape, style and kind would enhance her complexion, occasion and physical characteristics.
The most wearable and common jewelry for women is the 'earrings', however many men also embrace this jewel piece with elegance. Many women can do without bangles, necklace or ring but earrings are must wear for them.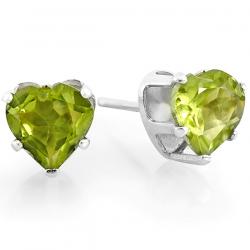 One of the most classy and elegant choice in this section are the 'Gem earrings' which gives you the much sophisticated and classy look. As far as gemstones are concerned different women have different choices in it, some like to wear diamonds, some select colorful stones and some choose their birth stones to add that element of dazzle and elegance. Here also there are many options available as far as gemstone earrings are concerned. For instance- chandeliers, studs, dangles, hoops, etc.
The style that you select depends upon your face shape, the occasion and your dressing. Like while going for a casual date for party drop gemstone earrings look trendy. For party and red carpet events chandeliers, dangles and long hopes look stunning.
These gemstone earrings give you much exclusive look in any party and set you apart from the crowd. In any high-class social event the gemstone earrings can be combined with diamonds or can be coupled with pearls. For your office and formal wear studs and small hoops are good choices.
The most important thing that you have to keep in mind while purchasing a pair of earrings is the shape of the face. Like for round faces long dangling hoops and chandeliers look great. Whereas for long and oval shaped face small studs, small drops look good. Studs go well with the square shaped face. Rectangular faces can select short gemstone dangles. Now comes which color to choose when buying the gemstone earrings. Darker skin tones match well with sparkle of diamonds.
A pale face brightens with bright colored gemstones. Also the occasion, hairstyle and outfit are deciding factors for the earrings. If your hairstyle is that of a ponytail or pulled back and tied, then a subtle stud earring would look good. Hoops go well with medium length hairs. In short whichever gem stone earrings you choose should suit your overall look.
Finest selection of Mens tungsten rings, Diamond eternity rings, tennis diamond bracelet, diamond engagement rings, diamond anniversary rings, diamond promise rings, gold chain necklaces, sterling silver diamond & many more.