Gold chains have been a status symbol right from ancient times. The wearer exhibits certain elegance, poise, wealth, luxurious living style, fashion consciousness, and etc.Gold jewelry has been a matter of pride for most of the people and needs consideration when buying them. If you are buying gold chain necklaces it has to be purchased with care as wide variety and designs are available in the market.
This piece of jewelry is very famous fashion accessory for both men and women. So be very sure when you buy gold chain necklace depending upon your dresses or gifting your loved one. There are some basic tips and ideas which if followed would make you pick the most perfect piece of the gold chain necklace.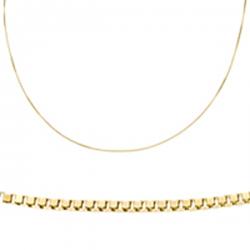 The size and length of the chain should be in accordance with the sex and style of its wearer For instance a woman would prefer thinner gold chain necklace for evening and formal wear accompanied with a cute gold pendant. Whereas people who want to wear them for casual wear just to add little glamour to the outfit would prefer the thicker and longer chains. Men prefer wider gold chains than women. Many people combine gold chains of different lengths and width to add that luxurious and grand look.
You can browse the internet to select the right type of design and patterns. The classic thin look like circular, rectangular, diamond links and square are favorite among women. These link shapes are combined to give different styles and patterns. On the other hand the men gold chain necklaces have sharper and heavier patterns like snake, curb, rope, etc.
In gold chain necklaces you get many options related to its finish and shine. Women who like to wear thinner gold chain on regular bases prefer the matte look or dull polished ones. Here the 24k chains sell like hot cakes. Whereas gold chain necklaces purchased for occasional wearing have shiny finish and delicate finishing this does not get any tear and wear of everyday use.
The thicker gold chains have alloys of gold like copper, silver, zinc or nickel in them. People who cannot afford pure gold chain opt for gold plated necklaces which are made from different metal other than gold but give the similar look of a pure gold chain.
Gold chains are available in different colors like yellow gold, white gold, or combined with silver, platinum or palladium. Depending upon the choice and preference of the wearer the color and finish of the gold chain necklace should be decided.
Finest selection of wedding diamond band, diamond promise rigs, black diamond rings, diamond studs earrings, Mens tungsten rings, hip hop jewelry, Diamond eternity rings, diamond engagement rings, diamond anniversary rings, sterling silver diamond & many more.